"Enrichment, isolation, and identification of oil degrading bacteria from the Fraser Valley of British Columbia."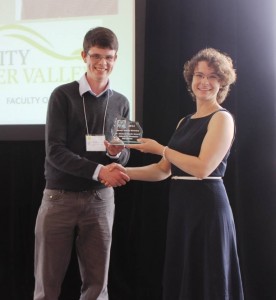 Andrew received the Playle Award at the 41st Aquatic Toxicity Workshop in Ottawa, ON from Sept 28 – Oct. 1, 2014.
The very strict criteria makes it a difficult award to be sought, and one is not necessarily given out every year. Congratulations Andrew!
In each of the two categories (BSc and MSc), theses will be judged on the:
Quality of the science (50%)
Presentation of the thesis (20%)
Quality of the applicant, as reflected in their CV (30%)
Specifically, judges will assess each nomination by considering the following criteria:
Writing is appropriate for the target audience
Thesis makes a compelling argument for the significance of the student's research within the context of the current literature
Thesis clearly articulates the student's research goals
Results are skillfully interpreted in the thesis
Compelling discussion of the implications of findings
Thesis is clearly organized
Thesis is free of writing errors
Citations are presented consistently and professionally throughout the text and in the list of works cited
Tables and figures are clear, effective and informative
Nomination package demonstrates that the student is academically gifted
Student is involved in a broad range of activities
Student shows promise to continue his/her academic training and/or interest in toxicology
Full Award History and Criteria: ecotoxcan.ca/student-program/playle-awards-nomination/
Past Playle Award Winners: ecotoxcan.ca/student-program/playle-awards-nomination/playle-award-winners/