2014 greenSPEAK Seminar Series:
Tuesday, 28th JAN., at 3:30
B101, Abby Campus (B Bldg.)
Open to the public (free)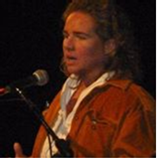 Kerry Coast: Journalist, dramatist, activist
Kerry Coast is a journalist, dramatist and activist. She has just published her first book, a researched account of British Columbia's history – The Colonial Present. Coast has attended the UN Permanent Forum on Indigenous Issues, participated in the Expert Mechanism on the Rights of Indigenous Peoples, and has been active in the movement to protect wild salmon and indigenous rights to fisheries in particular. Coast helped publish The St'át'imc Runner and The BC Treaty Negotiating Times newspapers.
Abstract: Colonization of Water­
Colonization of water is an urgent race around the world today. Recently the human right to clean water and sanitation was recognized by the United Nations – at a time when that organization predicts half the people in the world will find access to clean water their primary challenge, within 20 years. What does this mean for BC? For Indigenous Peoples' rights? Challenges include hydroelectric dams, fracking, diversion projects, waste water, aquaculture, urban sprawl, industry's use of fresh water and the need to restore living water systems. The presentation with a slideshow leads to lively discussions of this vital topic!
---