Archived from UFV Today, November 6 2012.  Original post by Anne Russell.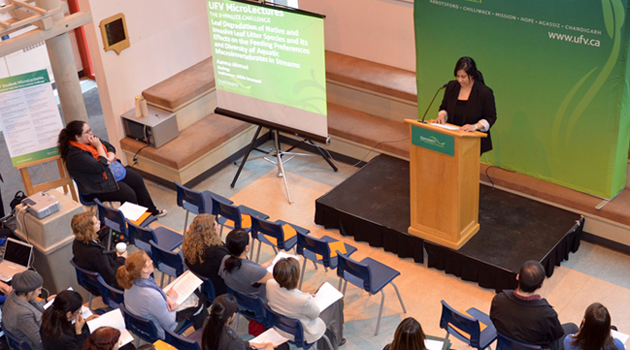 Are you the type of person who likes your education in bite-size pieces and on many topics in one sitting? Then be sure to take in the UFV Microlectures on Wed, Nov 14, at the Road Runner lounge on the UFV Abbotsford campus. Starting at 11:30 am, 17 faculty members from a variety of disciplines will each have two minutes to give you a taste of their field of research and speak about exciting findings and developments.

Presenters and topics include Canada Research Chair on food security holder Lenore Newman on Poutine Goes National; Shelley Canning of Nursing on Children, Frail Elders, and Ballet: A Magical Combination; geographer Jonathan Hughes on Ancient Floods in the Fraser Valley; kinesiologist Roger Friesen on the Pursuit of Excellence: Lessons Learned from the London Olympics; Tom Baumann of Agriculture on Growing Sake Rice in the Fraser Valley; Cindy Rammage and Christine Slavik of Child and Youth Care on Building Resiliency with Current Students/Future CYC Practitioners; Jason Thomas from Chemistry on  Catalysts and Electrical Switches Made out of DNA; and Michael Maschek from Economics on Simulations of Currency Crisis based on Evolutionary Learning,

Admission is free and the public is welcome.

The event is presented by the UFV Research office and the Research advisory council.

The Roadrunner Lounge is on the ground floor of Building A on the Abbotsford campus. Leave plenty of time to find a parking spot, or take transit! Pay parking is in effect.