So proud to see Communications scholars as presenters in the coming months. Also as collaborators and organizers on this event and with scholars from from across the College of Arts.
FYI: For those interested in attending, see registration details at the bottom of this announcement.
The goals of SSI are to facilitate interdisciplinary sharing, discussion and support for the great research and scholarly work going on at UFV. For more information or to offer to share your work at future sessions, please contact any of the organizers.
Each event features presentations from two speakers on their current scholarly work, followed by an opportunity for questions from attendees.
*****************
Thursday, January 27th at 1:00pm
Dr. Robert Harding (School of Social Work): "Canadian News Discourse about the Petroleum Industry: Corporate Media Framing compared with Indigenous Media Framing"
Dr. Amy Tang (English): "Interwar British Fiction and the Aesthetics of Energy Infrastructure"
*****************
Wednesday, February 16th at 1pm
Dr. Ghizlane Laghzaoui (Modern Languages): "Students' evaluation of teaching"
Heather McAlpine (English), Ron Sweeney (English), and Jessica Wind (Communications): "Riverdale: A Forthcoming Book with Pep!"
******************
Wednesday, March 30th at 1pm
Kim Norman (Communications): "Sights on Sites: The Risks Associated with Mis/Disinformation Online and an Exploration of Pedagogical Strategies for Mitigating Them"
Dr. Dana Landry (Communications): "Colouring with Pencil: How I learned to write and teach"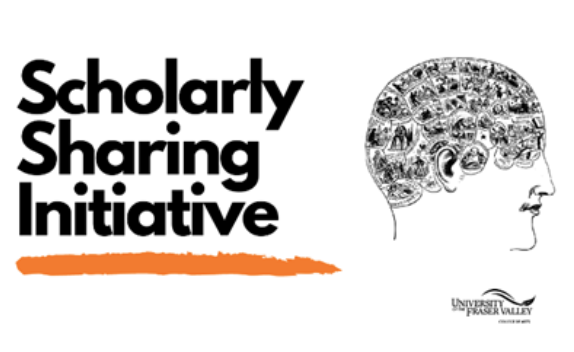 *******************
Scholarly Sharing Initiative organizers (2022):
Rita Atake, Hannah Celinski, Melissa Walter, Alex Wetmore
Registration Link:
Email: alex.wetmore@ufv.ca for more information