Guest Blog by Alison Evans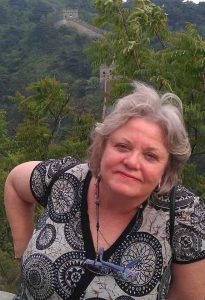 Madeleine Hardin has been an associate professor with UFV Communications since 1989. During her time at UFV she has seen the school evolve from a college, to a university college, to a full university, from two small buildings in Abbotsford and Chilliwack to the expanded campuses that exist today. Madeleine's work in media and advocacy helped shape the growth of the UFV Communications Department from a supplemental department assisting other disciplines with their curriculum, into a department on the edge of providing a four-year degree program.
As part of developing the oral history of the Communications Department, Madeleine spoke about her experiences over 30 years with UFV Communications.
Thirty Years at UFV
Prior to working at UFV Madeleine completed her Master of Arts in Communication at SFU. She then worked in television broadcasting for ten years as a researcher/writer with CBC TV News. While an exciting and fun career, she started to look for other careers that would allow her to spend more time with her young family. She was offered a job at Kwantlen College and UFV at the same time. She chose UFV because she "liked the people better. It's really that simple," she says. At the time the Communications Department was a small group of committed people working to establish the department, who Madeleine says are still some of her closest friends. Some of the earliest department members included Ken Fernstrom, Cheryl Dahl, and Wendy Burton.
Once at UFV, Madeleine used her experience from the newsroom and advocacy work to help the Communications Department evolve from being focussed solely on first year writing classes to include classes about media and journalism. Her experience in using her writing skills in a variety of mediums in television and media provided UFV Communications with a valuable resource for helping to expand their course programming from technical writing skills to include classes about advocacy writing, fundraising, public relations, and crises communication. Her department head at the time, Cheryl Dahl, established the Media and Communications (MACS) courses and department. Madeleine taught in both departments as a cross appointment for many years.  Her experience in using her writing skills in a variety of mediums in television and media provided UFV Communications and MACS with a valuable resource.
Beyond the physical changes of an expanding campus as the school grew, she tells us the student population has changed as well. During Madeleine's time with UFV, she has seen the school change from a "small friendly college", with students mostly local to the Lower Mainland, to a bustling student population of over 15,000, including international students from all over the world. With all of these changes, the Communications Department has stayed current by constantly adapting to provide the students with relevant skills, something Madeleine promoted in the Communications Department during her time as Department Head.
Communications Department Development
Just as the physical campus and the student body experienced growth and change, so has the Communications Department. Madeleine tells us that her work overseas, especially in China and India, helped advance her knowledge about what other countries were doing with communications, and she brought that knowledge home to UFV. This acquired knowledge transferred directly into the development of courses focussed on Intercultural Communications, Public Speaking and Writing for Business classes being provided by the Communications Department.
Madeleine was also instrumental in the development of two courses focused on Public Relations, Comms 212 and 312. These innovative courses were then adopted at SFU through Madeleine's connections to her alma mater, and eventually they formed the foundation of the Public Relations Certificate Program here at UFV.
While the Communications Department Head, Madeleine was instrumental in getting the department a minor and certificate programs. Previously, the department was fulfilling a service to other departments by providing courses the students would use to advance their work in other studies. Madeleine and her colleagues pushed for a minor program at a time when the school was transitioning from a college to a full university, which helped to advance the program even further. The department had to "start taking themselves more seriously" she says, as the department followed the trend of hiring instructors with doctorates as well as master's degrees.
The Future of Communications at UFV
To Madeleine, communications is so much more than technical writing and public speaking. She believes that communication "touches everything." She says, "There are no jobs without a communications component." She explained that communication jobs that did not even exist in the past are now required and abundant in all types of workplaces. She noted that especially during and post-Covid, digital communication and Digital Communication Strategists are needed in every branch of government and business in order to communicate with people when they could not be face-to-face and when they need to reach a broad spectrum of stakeholders and the public.
Communicating digitally is both "dangerous and useful," says Madeleine. She says more regulation for preventing the spread of false and misinformation is needed, but also there needs to be emphasis on teaching students ethical communication practices. While unethical communication is hard to prevent, Madeleine says, "You can train people to recognize misinformation," and teach them critical thinking about the information being communicated over all media channels. As digital communication moves forward, she feels this is something the Communications Department will need to examine.
She believes the UFV Communications Department is in great hands to face these challenges, and to keep moving forwards as communication continues to develop. "The department has always been full of good people. People who really believed in what they were doing and why they were doing it; all were good writers, good communicators," she says. "The department is in incredibly good hands, and I have been very proud watching them grow and change."
Madeleine continues to be involved with UFV Communications Department, and will be teaching CMNS 125: Professional Communications, this fall at UFV.