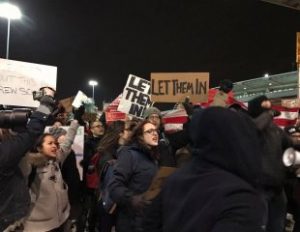 In the past weeks, post-secondary institutions, academic associations and other have been having discussions about political actions south of the border that threaten the free flow of ideas and block social justice initiatives related to immigrants and refugees whose countries of origin are places where Islam is the majority religion. Many of these organizations, including International Society for Media and Communication Research and the Federation for Humanities and Social Sciences have made public statements condemning the executive orders that have resulted in fear and uncertainty for students, faculty, researchers and others who are effected by them.
Here at the University of the Fraser Valley we acclaim three strategic directions, the first of which proclaims that the university will strive to "provide the best undergraduate education in Canada" and promises to provide an environment that:
is inclusive, welcoming, and engaging for all;
embraces diversity, supports cross-cultural exchange, and promotes the respectful debate of ideas and views;
involves students in governance and decision-making; and
offers vibrant campus experiences supporting social, intellectual, and personal development.
In the current atmosphere it will be helpful for all of us who work and study here to keep these ideals in mind.
A few days ago the Canadian Communication Association also posted a statement and we re-post it here to remind ourselves of what our academic discipline is about.
Message from the Executive Committee of the Canadian Communication Association (CCA) regarding the Executive Order issued by the US President Donald Trump on 27 January 2017
The Canadian Communication Association (CCA) stands in solidarity with those calling for the annulment of US President Donald Trump's January 27, 2017 Executive Order, limiting entry into the United States for citizens, legal immigrants, travelers, and refugees. The CCA is Canada's leading scholarly association for academics and other researchers working in media and communication studies, journalism, and cultural studies (http://www.acc-cca.ca). We are deeply troubled by this action and view it as running counter to the respect of human values, fomenting racial and religious intolerance, and damaging lives. CCA recognises that the ban likewise adversely and inequitably affects our peers. Some fellow scholars will not be able to attend conferences because of their citizenship, possibly their social media activities, or simply because they no longer feel safe crossing the border. As a domestic association with international membership we join our colleagues from academic communities across the world in denouncing this order.
We invite our members to sign the online petition of Academics Against Immigration Executive Order at https://notoimmigrationban.com/
The Executive Committee of the Canadian Communication Association
Daniel J. Paré, President and Interim Treasurer, University of Ottawa
Mary Francoli, Vice President, Carleton University
Mél Hogan, Secretary, University of Calgary
Sibo Chen, Student Representative, Simon Fraser University
Enda Brophy, Member at Large, Simon Fraser University
Nadège Broustau, Member at Large, Université du Québec à Montréal
Fenwick McKelvey, Member at Large, Concordia University
Jaqueline McLeod Rogers, Member at Large, University of Winnipeg
Christine Quail, Member at Large, McMaster University
Nathan Rambukkana, Member at Large, Wilfrid Laurier University
Gregory Taylor, Member at Large, University of Calgary
Andrea Zeffiro, Member at Large, McMaster University