To close out Indigenous History Month, CHASI's Graphic Design Intern Celina Koops created a piece to represent the ongoing evolution of Indigenous History.
My childhood was surrounded by a dark cloud when it came to my Indigeneity. I was a child in the foster care system, which denied me adoption for many years until I was a teen. I saw Indigenous people as my enemy. Even though my parents tried so hard to teach me about my history, I had a lot of hurt and fear in my blood.
I share this small piece of information with you all because it's hard to be around these pieces of you throughout your life but constantly feel like a fraud. It's difficult to tell others that you're something you're not when it is clearly stuck to you. I have recently begun to embrace my Indigenous identity, and I see that this learning experience has also created its own history: the gradual moments where I truly embrace being Indigenous. We create small bits of history every day.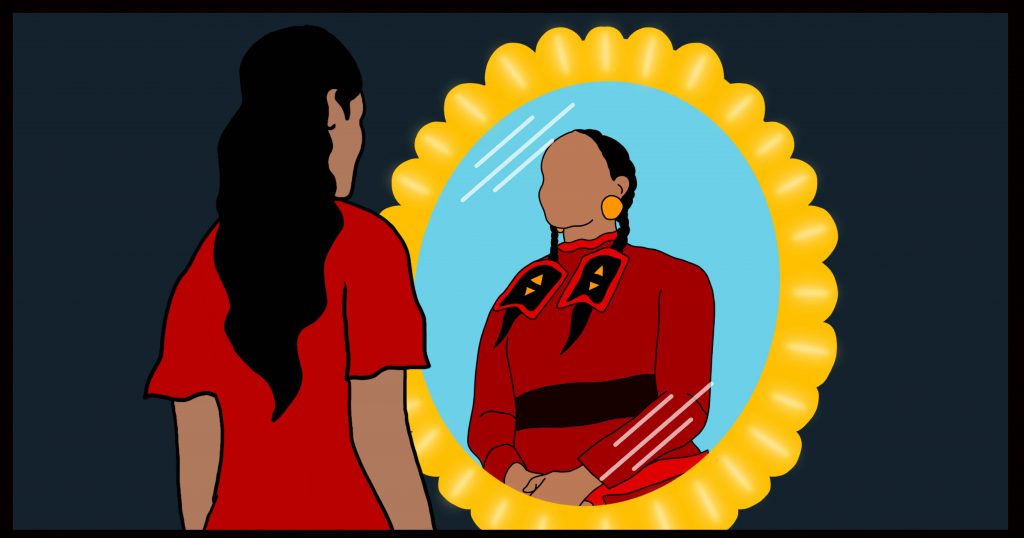 I created this piece to symbolize the past peoples of our culture, as they built the roads we follow and continue to grow on today, as it is passed onto the future. It shows the modern, fresh faces of our Indigenous brothers and sisters and friends. As the two symbols of history and culture and fate face each other in the mirror they are what our Indigenous History Month is about. I wanted to show a beautiful balance between then and now.
This illustration by Celina Koops is part of CHASI's ongoing series acknowledging some of the significant annual observances that align with our core values. To learn more and see the other illustrations in this series, please visit our observances page.