Collaborations with community partners and high-quality student research experiences are key for one research centre at Abbotsford's University of the Fraser Valley (UFV).
The Community Health and Social Innovation Hub (CHASI) recently welcomed three undergraduate UFV students as research assistants (RA) thanks to $45,000 in awards from Canadian research non-profit Mitacs and a partnership with Abbotsford, Chilliwack, and Mission Divisions of Family Practice.
These students, Michelle Grafton, Ekat Marenkov, and Chloe Raible, join a team with education ranging from PhD-holding veterans to fellow undergraduate students collectively engaged in dozens of research projects.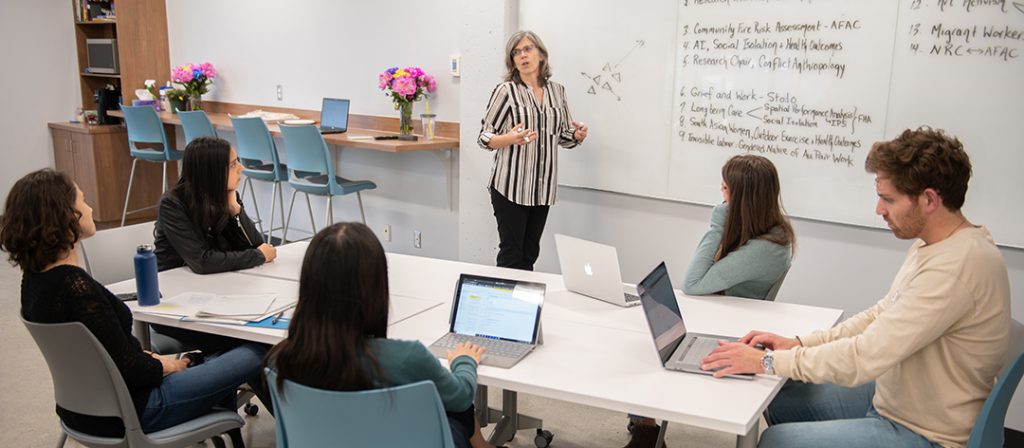 For CHASI director Dr. Martha Dow, these awards exemplify CHASI's core focus on partnerships.
"Our community partners conceived CHASI out of a need for community, university, and industry relationships that are driven by creativity, humility, rigour, and responsiveness," Dow said. "We act as a conduit that channels resources and data to where it's needed. Student engagement is also a core component of CHASI, and it naturally looks different during the pandemic. We've worked hard to ensure everyone is safe while still creating tremendous opportunities for our students to engage with complex challenges associated with individual and community well-being and build on their education with practical research experience as they make a difference in their communities."
Applying classroom learning to practical research is exactly what Chloe Raible has done.
"CHASI has provided me many opportunities to work closely alongside professors, graduate students, and other undergrads," Raible said. "Through that, I have been able to further explore my interests and gain more understanding about my personal educational goals. It's a community where everyone supports one another, and where questions are always welcomed and encouraged."
Raible's research is exploring motivations and causes for students leaving post-secondary institutions early. She examines what universities can do to better support students, and how COVID-19 has altered student retention trends.
This project, as well as other CHASI research initiatives—one on how university policy affects victims of sexualized violence and another about food security within the UFV community—all found student RA funding thanks to the new awards totaling $45,000.
In the past, Mitacs — which matches awards from organizations such as the Divisions of Family Practice — focused on funding post-graduate researchers. However, in response to COVID-19, it expanded its scope to include undergraduate research, and CHASI was quick to apply.
"The Mitacs award was a fantastic opportunity for us to bring more students into CHASI," said Dow. "And we are excited to receive the support from our partners to quickly apply for this competitive award. These students bring unique perspectives, an immense amount of skill, and are a vital part of our team and our research."
For her part, Raible has gained confidence in her abilities as a researcher and credits much of that to Dow and the culture within the research centre.
"The first time that I walked into CHASI I was quite nervous, and I remember thinking, 'Do I have enough experience for the position?'" Raible said. "But as I expressed this concern to Martha…she said that all of us can bring something to the table and learn from one another, regardless of our education or experience."
Based out of The University of the Fraser Valley's Abbotsford campus, CHASI's multidisciplinary research focuses on "turning knowledge into action" to support the social, mental, emotional, physical, and economic health of those living in the community. Just one year into operation, CHASI has navigated the challenges of establishing an effective organization during the ever-changing COVID-19 restrictions and emerged with a research team able to rapidly identify, research, and take action on these issues. For more information, visit ufv.ca/chasi.