We reached out to UFV Business instructor and Enactus faculty rep Darrell Lim, to provide us with an update on what Enactus has been doing over the past year.
"Our UFV Enactus team has expanded on their business and entrepreneurial skills in a multitude of areas over the last 12 months; including operating a student organization, starting up a social enterprise, and competing at Regional and National levels.
In May of 2018, our team consisted of one member that recruited six more members over the summer. Moving forward as a team of seven in September, we developed a business plan with a mission to up-cycle industrial pallets while giving valuable work experience to at-risk youth. Based on that business plan, we received the RBC Future Launch Project Accelerator Award valued at $3,000.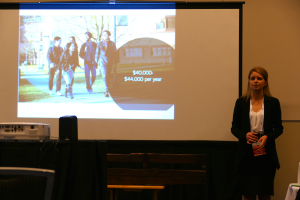 In October, our team had the honour of attending the World Cup in San Jose, California to learn about what students are doing on a global scale to address social and environmental concerns. From this experience we took away new tools to best equip ourselves for how to run our social enterprise more effectively.
Over the 2019 Fall and 2020 Winter semesters, through the funds provided from the grant and the School of Business, we were able to perfect our product design and attend craft fairs. We handcrafted old industrial pallets into rustic multipurpose shelving units that could be used as wine racks, bathroom shelving, and coat racks. We reached out to one of the trade technicians at UFV Chilliwack to help us ensure quality of our products. We produced 30 units, thus diverting approximately 300 pounds of waste from our landfills, and generating $286 in revenues.
Although we initially intended to employ at-risk youth, we realized it was not attainable. Our needs assessment showed a need for financial literacy, so we used our partnership with RBC to develop a financial literacy curriculum instead. We used this curriculum to teach 26 international students the basics of budgeting, and credit scores.
In total, our team has consisted of 15 members and has contributed over 1,800 volunteer hours to help improve lives in the community of Abbotsford."