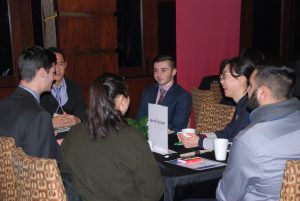 On February 3, 2017 the UFV School of Business hosted its third annual Finance Networking Breakfast at the Phoenix Lounge in Abbotsford.
Students participating in the event were given the opportunity to meet with representatives from six prominent Canadian financial institutions, CIBC, Envision, Scotiabank, Sun Life Financial, RBC, and TD.
"We were glad to see that students were eager to take advantage of this opportunity," said event coordinator, Kelly Gardner, "We can't stress how important it is to learn how to network effectively and begin to build up those contacts before you graduate. Events like this will really help our students when they are beginning their careers."
And careers they talked about. Students found out about career opportunities, compensation structures, typical entry-level positions, how to best transition from university to the workplace, and many more topics. At the end of the morning, students had received many valuable hints, and some got an interview offer on the spot.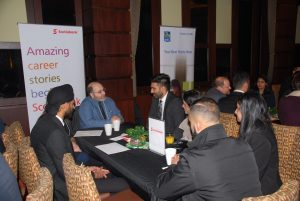 The finance career networking breakfast was initiated to help BBA Finance students get in contact with industry professionals.
Students who participated were able to ask representatives from each institution career-related questions, and were given the opportunity to hand in their resumes at the end of each round-table discussion. There was an informal question and answer period following the event, where students could continue to make connections with potential future employers.