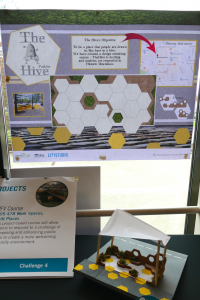 BUS 478 students, Aanam Gill, Carly Engelbrecht, Nicholas Point, Whitney Point, and Jared Shury received the Peoples' Choice Award (first place) for their business design project entitled, "The Hive". Voting was done by city staff, university personnel, and the public attending the displays held by CityStudio at City Hall.
The challenge, as presented by the City, was to design a place that would attract and retain people to the downtown area (providing a place for shoppers to rest, and, to increase business). Students observed and talked with downtown businesses, staff, shoppers, and visitors to the area; and, then created designs that displayed environmental, social, and economic responsibility; and, included biophilic, universal, and equitable access elements. The design is to be installed in the front of Oldhand Coffee (on the street and sidewalk).
"The Hive is a place that people are drawn to; like bees in a hive. We created a design mimicking nature. The Hive is inviting and modern, yet respectful to historic downtown".
Three other designs; one voted best by the City Engineering Department; and, one selected by downtown businesses, Abbotsford are considered for installation on Montrose Avenue. The third one selected by the Business Improvement Association, Surrey/Cloverdale will be installed in downtown Cloverdale.
The posters will be displayed in the upstairs hallway of C building.
Photos from the event can be found on the UFV Flickr account.