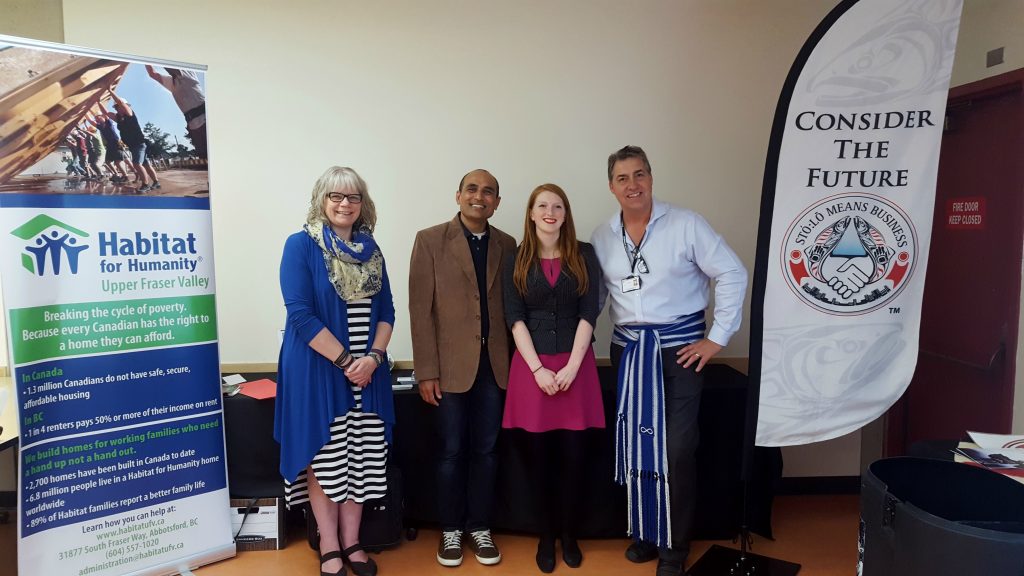 Thursday May 18, 2018, marked the UFV School of Business' first Sustainable Development Symposium. This event brought together UFV faculty and students, members of the community, and a variety of perspectives on sustainability.
2017 Sustainable Development Essay Competition winner, Sarah Speight, began the evening by presenting her proposal for an Apiculture and employment program.
Stó:lō Community Futures Community Resource Manager, Louis De Jaeger, spoke about the Stó:lō strategic vision, the importance of the entrepreneurial spirit, mentorship, and the ways in which the Stó:lō business community is working together to support Indigenous businesses. Louis discussed the Stó:lō Business Association's focus on helping Indigenous entrepreneurs develop their business skills and the ways in which a better understanding of cultural differences and history can help forge partnerships between Indigenous and non-Indigenous businesses.
Jeanette Martin, the Building Materials Coordinator for the Upper Fraser Valley Habitat for Humanity Restore, spoke about the opportunities offered to families by Habitat and the ways in which the Restore plays a vital role in generating housing opportunities for families all over the world. This is an exciting time for Habitat for Humanity, as in honor of Canada's 150th anniversary, they will be building 150 homes across Canada.
Speaking on behalf of the University of the Fraser Valley, School of Business, David Dobson, detailed his integration of sustainability themed projects into his research methods course. This presentation highlighted some of the most notable research projects done by students in this class, as well as discussed the challenges of guiding students through research of this nature.
This well attended event proved to be an excellent opportunity for UFV and Fraser Valley Stakeholders to make connections and exchange ideas on how the local community can work towards sustainability.