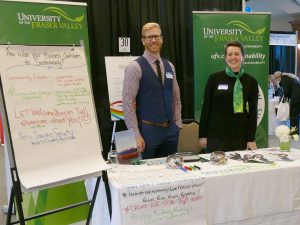 The UFV School of Business and Sustainable UFV partnered together Wednesday, April 19th, 2017 at the Abbotsford Chamber of Commerce, Business Showcase, to meet with members of the business community and discuss issues surrounding sustainable business development.
Showcase attendees were invited to discuss and record their ideas for how their businesses could work to become more sustainable.
Some of the ideas put forward were:
Geo exchange heating/cooling systems
Going paperless
Recycling, composting, and re-purposing
Roof top solar thermal (hot water)
Light harvesting
Banning plastic water bottles in the office
Virtual meetings
Recycling building materials (lumber, gypsum, etc.)
School of Business and Sustainable UFV faculty and staff connected with business leaders about the issues facing companies in becoming more sustainable and how School of Business students might be best prepared to take on these challenges in their future careers.
Attendees were also invited to attend the 2017 Sustainable Development Symposium on May 18th, 2017.