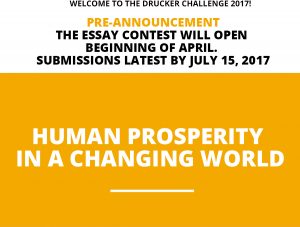 The Peter Drucker Challenge is an essay contest for students and young professionals between 18 and 35 years of age is now in its 8th year.
The theme for 2017 of Growth and Inclusive Prosperity which seems to touch a nerve across generations.
Can digital technology (in particular automation and AI) spawn prosperity as opposed to eliminate jobs?
What is your perspective on how technology can enable people to co-create solutions that are good for their communities, the economy and the world?
What is the role of management to free up human potential?
They are also happy to kick off the online article series that is a central element of the run-up to the Forum on Harvard Business Review and the German Harvard Business Manager.
More information on the 2017 Essay Competition can be found here.