Annual UFV Sustainability Report released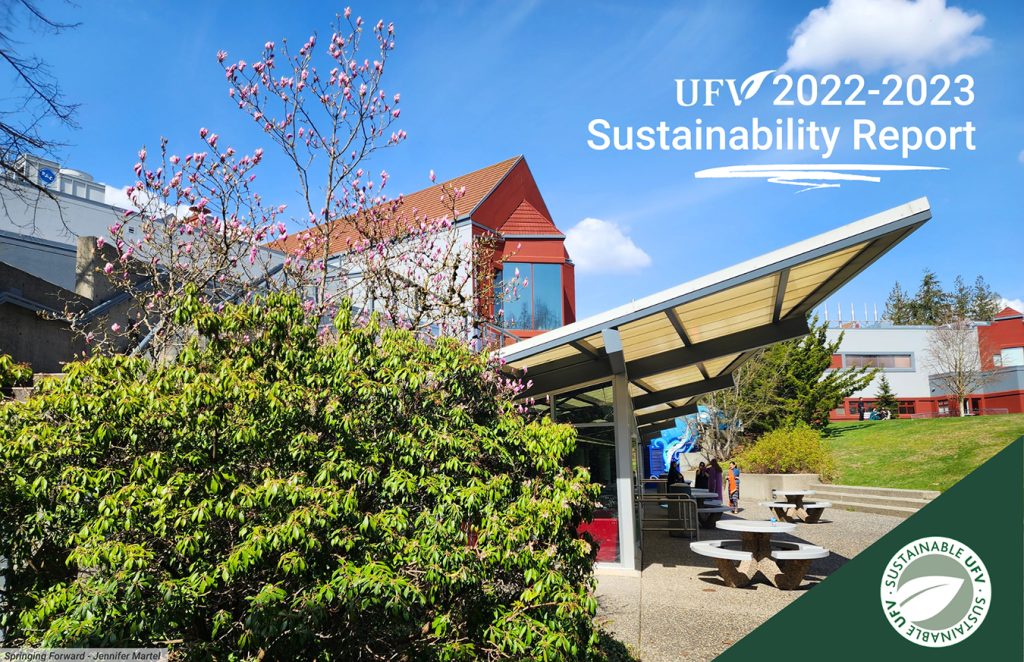 As institutional and community demand for sustainability has increased, UFV's Office of Sustainability (OoS) has become a central resource for pursuing the best practices of economic, social, and environmental management and advancement at UFV, and in the wider community.
Guided by the United Nation's 17 Sustainable Development Goals (SDG), UFV's OoS is leading the advancement of sustainability practices on campus; from events like the March for Sustainability series to establishing a pollinator garden, to community support and solar-powered buildings.
UFV's many accomplishments are documented in the newly released UFV 2022/23 Sustainability Report.
The report, prepared by the OoS, highlights pan-institutional sustainability work taking place across the university and recognizes the efforts of individuals and groups driving positive change at UFV and beyond. The report begins by highlighting initiatives driven by the OoS and reserves the rest of the report for showcasing the incredible work of others across campus to integrate sustainable practices into all areas of UFV.
"While this report celebrates our achievements, we recognize the urgent need to address the pressing social and environmental challenges that we continue to face," explains Doran Hoge, director of UFV Energy and Environmental Sustainability.
"Climate change, resource depletion, and social inequalities demand our attention and collective action. UFV is uniquely positioned to lead the way in modelling sustainable practices and educating the next generation of global citizens toward the creation of a more sustainable world."
Key findings of the report:
Community members value the advancement of sustainable practices at UFV
More events centered around sustainability and stewardship were hosted in the last year than ever before. Events were led or supported by multiple UFV departments, underlining the pan-institutional consensus that sustainable practices are foundational to communal well-being and consistent, sustainable growth.
Updating education, economic, environmental, social and management systems is just as important as designing new projects.
Collaboration and inclusivity are pillars of holistic sustainability. Driving change toward sustainable practices requires communal understanding and agreement, bringing everyone together through comprehensive systems updates allows us to stand together and face new challenges as a community. This also provides greater resources and equips us to better guide new initiatives for sustainable change.
"A problem shared is a problem halved"
There are 17 SDGs, 169 targets and 232 indicators that when combined, guide institutions toward a sustainable future. These are goals to be reached and accomplishing them is only the beginning. No single person, group or department can achieve long lasting, positive communal change alone.
Education must include sustainability principles to prepare future generations for an evolving world
UFV's commitment to integrating sustainability into all areas of the institution by signing the SDG accord, but many UFV members do not know how to begin. By integrating sustainable principles into academia, students will be taught the value of empathy and collaboration and better understand the responsibilities that accompany strategic decision-making. 
This is the motivation behind the OoS Mission Statement: "Driving meaningful partnerships that support a sustainable transformation towards the well-being of our communities and ecosystem". This is why the OoS is working to coordinate the efforts of every community member at UFV, to build a foundation for future initiatives that focus on social justice, environmental stewardship, support for those in need, and adapting our communities to a changing world.
As Sustainability Manager Jennifer Martel explains, "While there is a lot of great work being done at UFV to drive change towards a sustainable society, there is still plenty that needs to be done. Fortunately, we don't have to do it alone."
To learn more, contact sustainability@ufv.ca.