More than 2,300 graduate from UFV as Convocation ceremonies come home to Abbotsford campus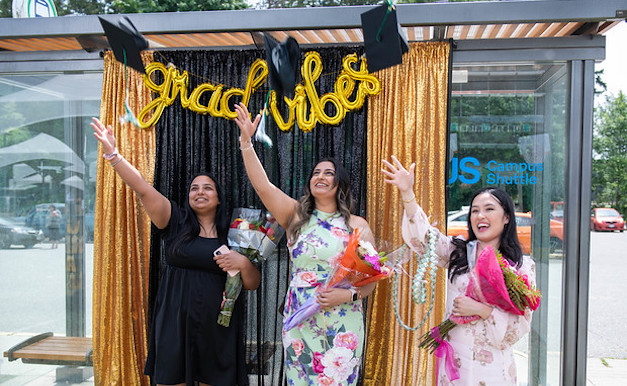 UFV welcomed grads and their families over six ceremonies from June 13 to 15 as Convocation came "home" to the athletic centre gymnasium on the Abbotsford campus after more than a decade off campus. The official tally for 2023 graduates is approximately 2,349, but not all were able to attend a ceremony.
UFV achieved a very significant milestone over the course of the Convocation ceremonies. The university now has more than 50,000 alumni, just in time for its 50th anniversary, coming up in 2024.
Acting President James Mandigo welcomed visitors to UFV, noting that for time immemorial the Stó:lō people have been the stewards of the land on which the university is located.
He congratulated the grads on their achievement but noted that graduating is only the beginning of their journey.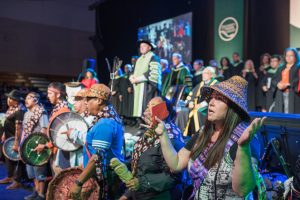 "Education is not about the acquisition of the piece of paper that you will receive on stage today. It is about all the potential that piece of paper represents for you, your family, your community, and to our planet," he said.
Mandigo noted that all graduates have mastered skills and knowledge specific to their craft, but also other essential skills such as active listening, public speaking, critical thinking, and decision-making.
"Today we not only celebrate your achievements with you, but we also wait in anticipation of the great potential you will bring to being changemakers in the world."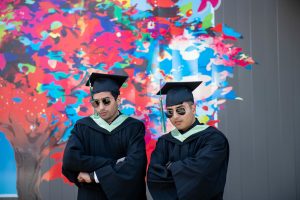 Student speakers addressed the grads at each of the six ceremonies.
"The myth of perfection says you will be happy and fulfilled if you make no mistakes, if everyone likes you if you never fail. But here's the thing… perfection is impossible," said Kyla Mitchell-Marquis, who earned a Bachelor of Arts with a psychology (honours) minor.
"I know you will have successes. Great ones! But the reality is, at some point, you will fail. You will make a mistake because you're human. One of the greatestlessons I have learned is that when you allow yourself the space to fail you're making room for yourself to grow."
Jon Botti, who earned a Bachelor of Integrated Studies, is an established businessman who earned a second degree because of his interest in food security. He shared advice gleaned from his life and career.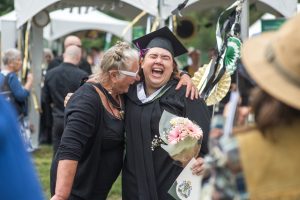 "First, if you create value, resources will flow to you. Money, people, networks, and ideas. Focus on creating value," he said. "Secondly, 'givers get'. Build your networks. Feed your networks with your talents and energy. Thirdly, 'take no for starters.' We all encounter lots of nos. Take no for starters and embrace it as a maybe. Your grit, your resilience, and your determination will help you turn maybes into yesses. Believe in you. Trust your network and get into motion. Be open and aware to unexpected opportunities. Enjoy your own wild journey."
Sydney Plante, who earned a Bachelor of Science with a physics major, referred to the recent crisis-filled years during which the Class of 2023 attended university.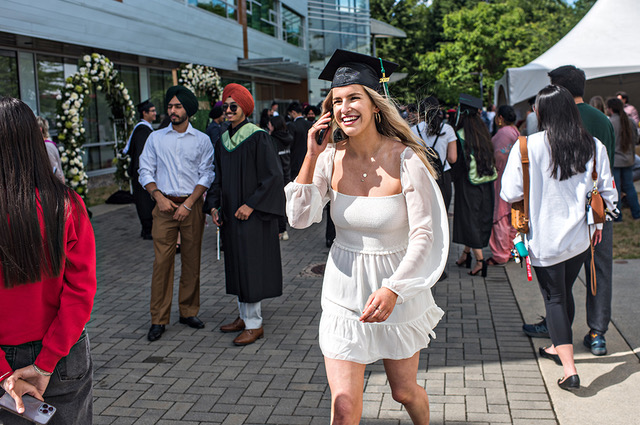 "Our graduating class is resilient. The world has shifted and changed since we started here. We've had pandemics, floods, global political movements, heat domes, and wars. Nothing could have prepared us for all that. But despite the bumps and obstacles, here we are.
"The grad class of 2023 is writing history," she continued. "One day when our grandkids learn about the 2020s, they'll ask us how we did it. How did we keep up the motivation, the focus? How did we preserve our dreams when the whole world was falling apart? The answer to that question? Simple. We rose to the challenge. No matter what was thrown at us, we didn't back down."
Rut Castillo, who earned a BA in Adult Education, came back to post-secondary education after suffering a stroke at the age of 30, and studied from a distance while raising three young daughters.
"My studies gave me the insight I was looking for," she said. "I am happy to report that I was always successful. Even without a degree. Success can only be determined by oneself. Societal standards and expectations of others should not dictate what success means for the individual. That can only be determined by me. And by you!"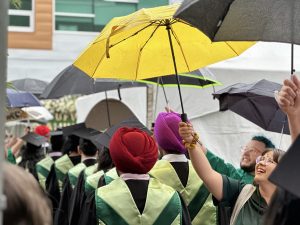 Gurneesh Purba earned a Bachelor of Kinesiology. He told his class of future healthcare professionals that they need to practise self-care too.
"Beyond your academic achievements, your journey has been much more. It's been a journey of personal growth, resilience, and compassion. We've learned that healing extends beyond the physical realm and encompasses emotional, mental, and spiritual health," he said.
Trisha Kumar, who earned a Bachelor of Business Administration, urged her classmates to use their education to improve society, and noted that along with the successes celebrated at convocation, everyone encountered challenges along the way.
"Your path is not only paved by your successes but also your failures. The things we don't put on plaques or add to our LinkedIn profile. The exams we bombed. The presentations we fumbled on. By leveraging our education, we have the power to bridge gaps, break down barriers, and create a more inclusive and equitable society."
Several awards and medals were presented over the course of the six ceremonies.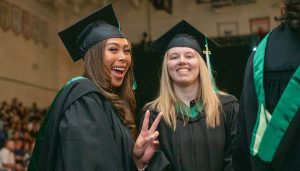 The Governor General's Gold Medal for top student in a master's degree program went to Celina ten-Boemer of Chilliwack, who earned a Master of Education. The Governor General's Silver Medal for top bachelor's degree student went to Ravneet Sohal, who completed a Bachelor of Kinesiology. The Governor General's Bronze Medal for top student from a two-year program went to Rohan Sagar of Abbotsford, who earned a Business Administration diploma. The Lieutenant Governor's Medal went to Lisa Doell of Chilliwack, who earned a Bachelor of Fine Arts degree.
Dean's Medalists were Levi Bailey (Education, Community, and Human Development), Maria Paula Eraso (Science), Greg Luesink (Health Sciences), Nitish Jaswal (Business and Communication), Jose Klautau Toffoli (Applied and Technical Studies), Sarah Brown (Humanities) and Tyler Falk (Social Sciences).
UFV presented honorary doctorates to four Canadians who have made a significant contribution to their field and Canadian society: Dr. Bonnie Henry, Naxaxalhts'i 'Sonny' McHalsie, Mike Retasket, and Dr. Judith Soon.
View photos from our Convocation ceremonies: