Governor General's Bronze Medal 2023: Rohan Sagar follows his passion for business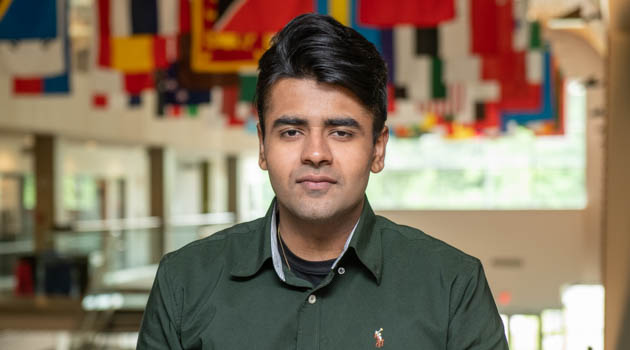 Rohan Sagar was shopping for groceries when he learned he won the Governor General's Bronze Medal at UFV, awarded to the student with the highest grades graduating from a two-year program.
He was in Walmart when he got the phone call, shopping bags in both hands while he scrunched his shoulder to precariously keep his phone up to his ear.
Sagar admits that he didn't know about the prestige of the award, as he only came to Canada from India a year and a half ago and is still getting used to the Canadian education system.
"I went home and researched a bit and then realized 'whoa, this is something remarkable.' I never knew something like this existed to appreciate and reward students' academic efforts."
He immediately told his family, who are planning to travel to Canada to watch him graduate and accept his medal at UFV's Convocation ceremonies.
"My mom and dad were always behind me, encouraging me to go for what I wanted, no matter what I decided to achieve. My sister has always been a big support as well!"
That support helped Sagar achieve his Business Administration diploma at UFV, graduating with a with a 4.3 GPA.
What stands out for Sagar about his UFV experience is the value placed on practical knowledge and the independence to grow and explore.
"You leave all possible doors open. If something isn't working out, you have another avenue to try to find a different route. I appreciate the freedom you have to go and find what you like here."
Sagar's own enthusiasm for business started when he was a young boy, shopping with his parents. As he saw how salespeople would talk to complete strangers, he grew curious about business and sales as a career. Being able to talk to people, learn about them, and even help them in a sense, is what inspired Sagar to try his own hand at a career in business.
Encouraged by his parents to pursue his passion, Sagar started his career in sales as a part-time cashier before moving to technology sales, growing into a technology consultant, and then later becoming a wireless sales supervisor working full-time, all while still completing his education at UFV.
For Sagar, the field of sales isn't just about selling. "I'm passionate about talking to people and putting my best foot forward. I don't love anything else more than this!"
The Governor General Bronze Medal and his business diploma is just the start for Sagar. He was recently promoted to a new position in Langley. Sagar plans to get his Permanent Residence (PR) in Canada in the next few years and is looking to expand his business experience, exploring opportunities in management, finance, and realty sales.
Beyond that, he's not too sure.
"I'm more of a 'go with the flow' spirit. I definitely have future plans, but they're not concrete. I'm not the kind of person to plan the next three years ahead! But whatever I choose, I'm going to put my best foot forward."
Sagar takes away one key lesson from his own journey. "Everyone has their own unique story, struggles, and personal motivations. You just need to find what drives you and put yourself fully into it. Once you do, there's no stopping."