Governor General's Silver Medal — Ravneet Sohal loved everything about her kinesiology program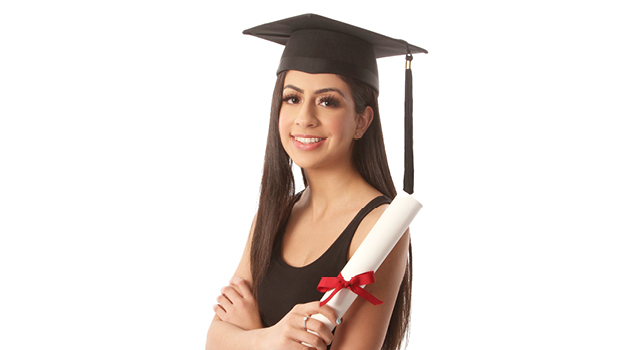 Ravneet Sohal is excited about her future, but she's also reveling in her recent past. Her experience in the UFV Bachelor of Kinesiology degree program was so positive that she will carry warm memories and valuable knowledge gained through her career journey.
Sohal is off to medical school at the University of BC Okanagan site in the fall. Her excellent grades helped gain her admission to med school, but also earned her the Governor General's Silver Medal, awarded at UFV Convocation to the student with the top marks in a four-year degree program.
"I'm really honoured to be receiving this medal," she notes. "I couldn't have done it without the support of friends and family, and the excellent education I received at UFV. This university gave me access to lots of opportunities that I would not have had at a larger university."
The UFV Kinesiology program is based at the Chilliwack campus and students end up being in many of the same classes together, creating a cohort-like atmosphere.
"I really enjoyed the content of my courses but also the professors — I had positive experiences with every single one of them," she notes, citing Amber Johnston and Carl Neinhuis as favourites. "I also really liked getting to know the other students so well. We were all together on the Chilliwack campus, and spent a lot of time together."
At the end of her first year, the pandemic hit, and Sohal, like many other students, had to transition to online learning.
"That was very hard, especially for the kinesiology lab sessions," she recalls.
Coming back to mostly in-person learning for her last two years was a relief, but also a bit of a shock.
"I was really excited about coming back but we also forgot how to interact and follow a set schedule and other things," she recalls. "It was challenging but I re-learned how to balance time and priorities better again."
Sohal further developed her leadership skills by serving as a Kin Pal mentor, checking in on and guiding new students. She was also a Supported Learning Group leader, a paid position where students lead small group sessions to help first-year students in courses that are extra challenging, academically.
Sohal really valued the networking opportunities that came with being in the Kinesiology program. Activities like career panels and research projects exposed her to career possibilities and valuable experience.
She worked with Dr. Gillian Hatfield on projects related to osteoarthritis and core muscles, taking measurements and performing tests on volunteers from the community.
"There was so much opportunity to share and learn beyond the course content and to apply in everyday life," she notes. "It made my educational experience that much more valuable."
She is also going to be a published academic soon. She will be cited as a second author on a paper evaluating the reliability and validity of videos in childhood burns.
In addition to being a mentor, Sohal was informally mentored by a student a year ahead of her who also wanted to go to medical school and ended up being admitted. She is following in his footsteps a year later, after months of concentrated studying last summer to prepare for the MCAT, a test used by medical schools to assess applicants. Although she likes the idea of being a family physician, she's not ruling out other specialties yet.
"I'm going into medical school with an open mind," she says. "It's hard to get experience in a clinical setting before medical school so I will find out more about the various specialties as I go along."
Sohal is from Abbotsford and attended Dashmesh Punjabi school.