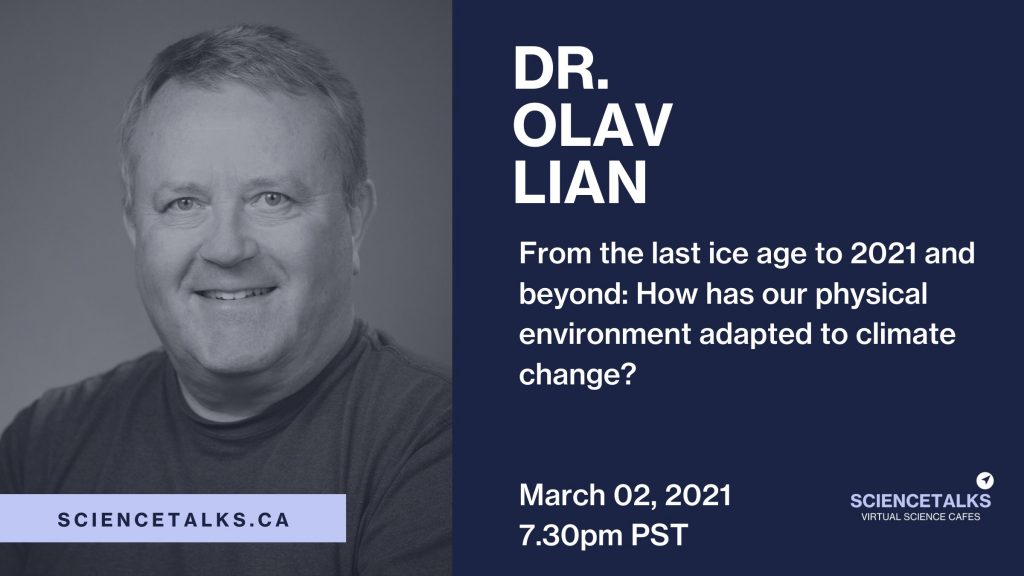 A UFV professor who has devoted his career to looking at long-term change through examining soil samples will be presenting in the Science Talks community lecture series on March 2.
Catch Dr. Olav Lian speaking on the topic From the Last Ice Age to 2021 and Beyond — how our physical environment has adapted to climate change. Tues, Mar 2, 7:30 pm.

Register here: http://ow.ly/kgmD50DLpnc
Lian heads the Luminscence Dating Laboratory, part of the School of Land Use and Environmental Change at UFV. It is currently the only one of its kind in Western Canada.
Under the leadership of Lian, research in the lab involves the collection of sediment samples in locations as diverse as Arctic Canada, BC's central coast, Australia, and Patagonia. These samples are then dated, and the age information is used to help understand the nature of long-term environmental change.
"The UFV Luminescence Dating Laboratory has a long history of doing research on the nature and timing of landscape change as a result of long-term (hundreds and thousands of years) shifts in climate. In my talk I will briefly introduce what luminescence dating is, and how it can help understand the timing of landscape change, and then give illustrative examples from western Canada (research led by former UFV students) where we have applied the technique. One example will touch on how the Fraser River valley in central BC adjusted at the end of the last ice age about 12,000 years ago, during and immediately after the demise of ice age glaciers when climate was warming rapidly. Another example will be on how an island on BC's coast adjusted to shifts in climate about 5,000 years ago."
Find out more about the UFV Luminescence Dating Laboratory here.
Lian was the inaugural winner of the UFV Research Excellence award.
Olav Lian winner of the inaugural UFV Research Excellence award