Olav Lian winner of the inaugural UFV Research Excellence award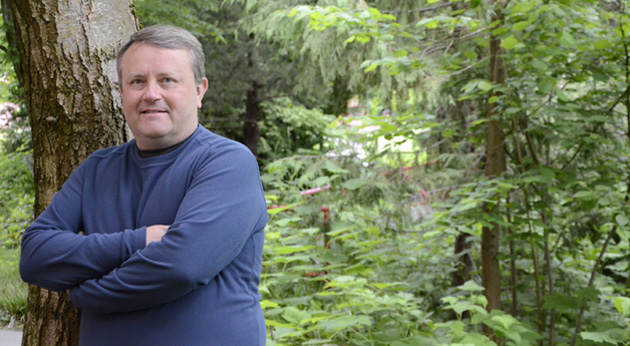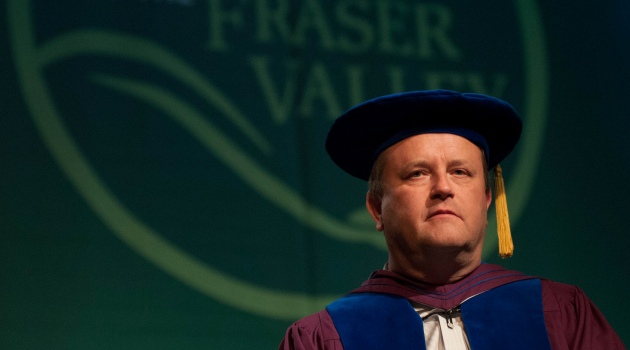 In a way, Dr. Olav Lian is just a grown-up version of the proverbial little boy who likes to pick up rocks at the seashore to see what's under them.
But along the way, he has collected a bachelor's degree in physics, a master's in physical geography, and a doctorate in geology; built state-of-the-art luminescence dating research laboratories in New Zealand and England, and now at the University of the Fraser Valley; participated in and led cutting-edge research on environmental change; and trained and mentored several UFV undergraduate students as they launched their academic research careers.
For his collaborative approach to research and his guidance of UFV students, Lian has been awarded the inaugural Research Excellence award at UFV.
While the recognition is nice for Lian, he says he's just doing something he loves.
"I get an incredible amount of joy out doing research and making discoveries," he says. "One of my colleagues and I were joking that we're still like little kids. We keep turning over rocks. Some people grow up and lose their curiosity, but we are still looking under the rocks."
He also derives great joy from sharing his passion for scientific inquiry with others, and believes that an active peer-reviewed research career is essential for effective teaching at the undergraduate level
"It's a wonderful feeling making others aware of the opportunities that exist for pursuing research. If I see any sort of spark in a student, the potential, the desire, and the love of the natural environment, I try to give them the opportunity to fulfill their dreams. Being taught in a classroom setting from a textbook should only be a small part of a student's educational experience"
Understanding timing of environmental change using grains of sand as "clocks" has been a lifetime's work for Lian. As geochronologists, Lian and his associates view time very differently than many of us; they do this by studying the physical environment as it has changed over the millennia by analyzing long-buried grains of sand using a technique called luminescence dating, which allows one to date when grains of sand buried within a landscape were last exposed to sunlight — or when that landscape was last unstable.
A summary letter prepared by Scott Sheffield, chair of the UFV Senate Research Committee, itemized many of Lian's strengths, noting that his work has been published extensively in major journals, his research has earned him recognition and success in major external grant competitions such as NSERC, which have brought hundreds of thousands of dollars to UFV, and that he has also been a dedicated and active member of the UFV research community, chairing the Research Advisory Council from 2008–10, as well as the new Senate Research Committee from 2010 until the fall of 2011.
"Perhaps most impressive is Dr. Lian's passionate commitment to bringing his research into his classroom practice, and to mentoring his students in their own budding research careers," Sheffield noted. "His lab is a place of research, but as his colleague Jonathan Hughes argues, 'more importantly it is a place for students to engage in inquiry‐based learning.'
"Many students have benefited from opportunities to work with Lian in his research, as well as pursue their own work in his facility. He teaches them research practices, sends them to conferences to present on their work, and often co‐publishes with them to help them build their experience before spring-boarding to new opportunities in the workforce or graduate studies.
"In sum, Dr. Lian is a shining example of research excellence, and a model of how this can be incorporated into a teaching‐focused regional university such as UFV and make it a better place for all," Sheffield wrote.
When Lian first arrived at UFV in 2005, it was still a university college and did not have a strong research culture, having evolved as primarily a teaching institution. Even when university status was achieved in 2008, it was as a regional undergraduate university, not a research-intensive university with a strong graduate program.
"Some of my colleagues said it would ruin my career to come to a smaller university like UFV, but one of my mentors had been at Simon Fraser University right at the beginning, and recommended the experience of helping to build a university."
The deal was sealed when UFV agreed to help fund the creation of the luminescence dating laboratory.
"I said to Yvon Dandurand (UFV associate VP of Research), if the university invests in me, I'll promise to match that investment by attracting external funds and by working to create a place where undergraduate students can get high-quality research experience, meet leaders in their field, mix with the best scientists in BC, and generally be treated like professional researchers."
And he's kept that promise. Former UFV student Winter Moon (now a graduate student at SFU but still working with Lian) received a prestigious NSERC Alexander Graham Bell graduate scholarship. Justine Cullen (now doing her master's degree at SFU, under Lian's supervsion) also was awarded an Alexander Graham Bell scholarship, and in addition won the Geological Society of America's prestigious 2010 Farouk El-Baz student award while still an undergraduate, the first ever to do so. Several other UFV undergraduate students have won internal and regional awards based on research that they have conducted in Lian's laboratory.
"It's taken time, but the results, in terms of our graduates going on to even greater success, are starting to come in," says Lian. "Now I'm working to create an environment where they stick around, doing graduate-level work in our lab, and mentoring the more junior students."
Lian is currently involved in several research projects.
His current principal project focuses on understanding how the landscape in western Canada adjusted to the rapid disappearance of glaciers at the end of the last ice age (glaciation).
"This work is being conducted by me, and my MSc student Winter Moon, in the Fraser River valley in south-central BC. Winter's research is looking at finding the best way to apply luminescence dating to find the age of sedimentary landforms that developed soon after the glacial ice melted away about 12,000 years ago. In other words, she is systematically adjusting the laboratory experiments we use to find the one which gives the best results (i.e., the best ages). We then apply these experiments to date the landforms of interest," Lian notes.
Lian and his lab also have a long and ongoing research collaboration with Natural Resources Canada (Geological Survey of Canada) on understanding the response of the prairie landscape to shifts in climate over the past hundreds, and thousands of years. This project has supplied federal funding to the luminescence dating lab that has, in turn, funded UFV student research and salaries. Lian and graduate student and UFV alumna Justine Cullen will be joining Dr. Steve Wolfe in the western Arctic in mid-June for field work.
He is also working in Patagonia (southern Chile and Argentina), looking at the history of glacier advance from the southern Andes onto the Patagonian steppe over the last several 100's of thousands of years. This forms a master's research project for UFV alumna Justine Cullen, who is looking at developing the best way to date landforms that were created during permafrost periods in the region.
Lian's team even has a connection with NASA.
"We have recently started collaborating with Dr. Darlene Lim's team at NASA's Ames Research Center in California. Her team has been studying primitive landforms, called microbialites, that live in the harsh environments that occur at the bottoms of some of the deep lakes in southern BC, specifically Pavilion and Kelly lakes. This July I will be taking many of my research students up to Kelly Lake where we will extract long cores from the sediments that have accumulated in the bottom of the lake since glaciers that once occupied the valley melted away about 12,000 years ago. Information stored in the sediments cores should give us an idea how the environment in, and around, the lake has changed over the last several thousand years."
Lian also recently started collaborative research on remote Calvert Island (central BC coast) with colleagues and graduate students from the Geography department at University of Victoria. This research is being supported by funds awarded by the Hakai Network, an innovative, inter-disciplinary research team of international stature conducting research, training, and educational initiatives in support of sustainability and conservation in Coastal British Columbia.
The Hakai Network is funded by the Tula Foundation.
"On Calvert Island we are looking at ancient coastal sand dunes that formed in response to changes in sea level over the past several thousand years. In addition, considerable funds have also been awarded from the Hakai Network to support a post-doctoral fellow (salary and research funds) over the next three years. This fellowship will be based in the Geography department at UFV and will continue, and expand on, the research currently being done on Calvert Island.The fellow will also serve as an important mentor for UFV geography students."
There are several other research projects currently in progress in the luminescence dating laboratory, including work on understanding the environment that immediately preceded the last glaciation. This work is being done in collaboration with Dr. Richard Hebda (Royal BC Museum) in the North Shore valleys and on Vancouver Island, and with Drs. Rolf Mathewes (SFU Biology) and Dr. John Clague (SFU Earth Sciences) in coastal cliffs of Haida Gwaii; Lian and his associates are also collaborating with several other graduate students' research projects, and their senior supervisors, at SFU and UVic on understanding post-glacial landscape evolution in BC, and there are a few more minor collaborations on the way too.
–    30 –