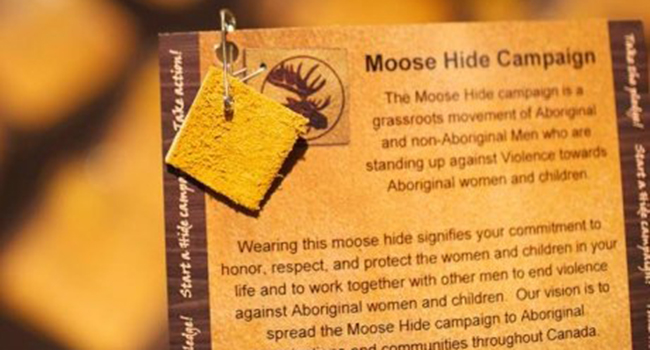 Although all people, regardless of gender identity or expression, may experience violence and abuse, Indigenous women and children are disproportionately impacted.
This February, UFV will be taking a stand to prevent violence against women and children by participating in the Moose Hide Campaign.
From Feb. 10-27, UFV students, staff, and faculty may learn more about the Moose Hide Campaign at information tables across our campuses. On Feb. 24, all UFV community members are invited to the UFV Moose Hide Gathering from 10 am-2 pm in the Gathering Place (A1457) on the Chilliwack campus at Canada Education Park. This event will include a livestream of the Moose Hide Walk to End Violence Against Women and Children in Victoria, BC. The walk will also be livestreamed in the SUB Atrium from 11:30 am-1 pm on the Abbotsford campus.
The Moose Hide movement was founded by Raven and Paul Lacerte during a hunting trip on their traditional territory in northern BC near the Highway of Tears, where dozens of women have gone missing or been found murdered. In the initial stages of the campaign, Indigenous men were invited to take a pledge to "speak up and take action" against intimate partner violence and child abuse; wearing a small square of moose hide pinned to their shirt would be a sign of their pledge and solidarity. Since then, the Moose Hide Campaign has expanded their message to encourage people of all gender and ethnic identities to become involved.
In an effort to further support this cause, UFV will also be collecting donations of new toiletries and new or gently used clothes for the Ann Davis Transition Society, SARA for Women, and A:yelexw Center for Hope and Healing — three local organizations that help women and children escape from abuse and violence. Donations can be dropped off at the following locations Feb. 10-28:
Abbotsford campus: Student Services (B214) or Student Life (S1111)
Chilliwack campus: Indigenous Student Centre (A1441)
Trades and Technology Centre: Front Office
Hope Centre
Clearbrook Centre
Participating in the Moose Hide Campaign is one way to demonstrate our commitment to implementing the Truth and Reconciliation Commission's (TRC) Calls to Action and to creating a safer, more inclusive community.
For more information about the Moose Hide Campaign, please visit https://moosehidecampaign.ca/
If you have questions about UFV's participation in this initiative, please contact:
Rebekah Brackett, Indigenous Academic Success Cohort Program Coordinator
Rebekah.Brackett@ufv.ca or 604-504-7441 x 2497
Belinda Karsen, Coordinator, Student Transition and Engagement
Belinda.Karsen@ufv.ca or 604-557-4064