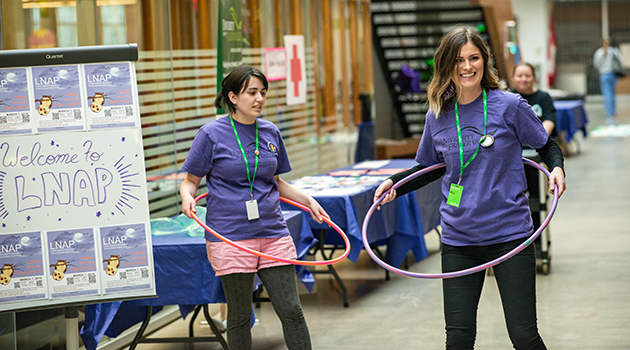 October is almost over, and that means students are starting to feel a bit of end-of-semester pressure.
UFV's Long Night Against Procrastination (LNAP) is back again and set to help assist those in need over the academic finish line.
This year's fall LNAP is on Wed, Nov 6 at both Abbotsford and Chilliwack campuses, and returns with new activities (root beer pong) and new ways to win prizes (early registration and selfie station).
"That one month before final exams seems to be a really critical point in the semester — you get it done, or you let it slide," says Sandra Smith, UFV's Academic Success Centre (ASC) coordinator. "And we really want to help students get things done."
The usual LNAP offerings will be in place: the library in both locations will stay open later, there will be regular draw prizes throughout the night, and games and activities will be set up.
It also brings a lot of UFV's supportive resources together — resources students might not know about — providing an opportunity for groups at UFV to showcase their services and to connect with students.
"Yes, we have all the services listed, but there's a difference between scrolling around on a website trying to get help and talking directly to somebody in the hallway," says Smith. "That human connection is really important, and LNAP gives us an opportunity to do that."
On the heels of their UFV Teamwork Award, the LNAP team is reinvesting that prize money to improve the event — and the student-experience.
"It's huge support we're getting — people, dollars and time," says Smith. "I can't stress enough how much it's a UFV event."
The list of activities, resources and donated prizes reflects that sentiment.
Prizes
grand prize for participation (free tuition for one three-credit course)
NEW: early registration prize — $25 UFV Bookstore gift card
NEW: selfie station with social media prize
Services and Activities
NEW: root beer pong (Abbotsford)
midnight pizza
virtual reality space
de-stress room
therapy dogs
karaoke (Chilliwack)
crafts with Josephine Charlie
free printing throughout the night
extended Campus Shuttle hours
food and drink throughout the night
workshops
free popcorn (Abbotsford)
extended tutoring hours
The LNAP team requests that participants provide their own beverage containers.
UFV's fall LNAP 2019 is on Wednesday, Nov. 6. — register early.
Abbotsford – 5 pm to midnight (primarily in G building)
Chilliwack – 3 pm to 10 pm (primarily in A building – library, atrium, hallway space)
Hope – NEW LOCATION activities will run during the day