The great hall was a-buzz with great brains on April 7 when students from a variety of disciplines gathered to share their research via posters and demonstrations.
Judges strolled the aisles, chatting to students about their research.
Criminal justice student Ashley Reddicop investigated the motivating forces behind young people joining gangs in British Columbia, including individual motivations, group dynamics, and environmental opportunities. She noted noting that proximity to the border, a laid-back attitude toward marijuana from police, and a good growing climate, makes it easier for gangs to gain a foothold in the drug trade.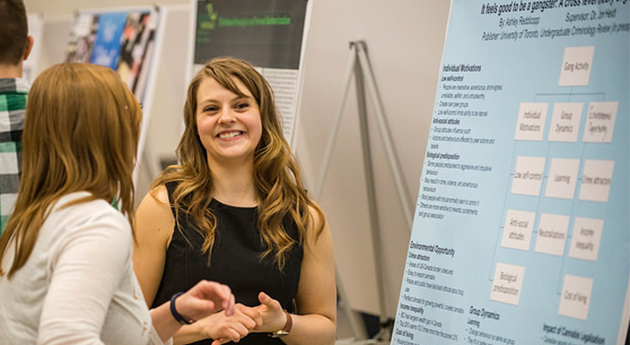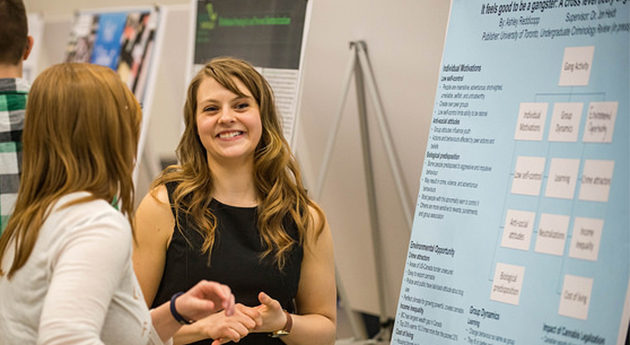 Her article on a cross-level theory of gangs has been accepted to the University of Toronto Undergraduate Criminology Review.
Madelaine Bourdages and Alexandra Groeneweg presented their research on threats to the watercourse for salmon at Abbotsford's Stoney Creek, including residential development, proximity of trails, impacts of agricultural use, and even the effect of dogs running through and swimming in the creek.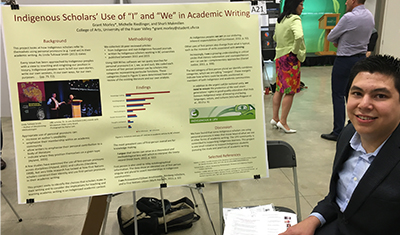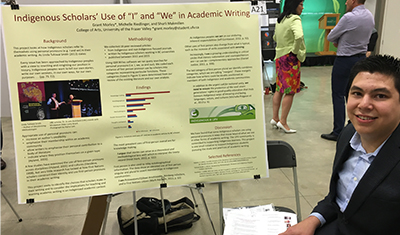 Grant Morley worked with professors Shurli Makmillen (English) and Michelle Riedlinger (Communication) to analyze the prevalence of first-person vs. third-person in indigenous and non-indigenous academic writing.
"First-person use is discouraged in academic writing, but aboriginal people are using it in that forum in more and different ways," he noted. "It's connected to their relationship to the community they focus on."
Tasha Guenther immersed herself in World War I for her research, analyzing thousands of articles in British newspapers and periodicals to see how they portrayed soldiers from India who joined the British Empire's troops.
"They tended to be characterized as 'loyal' and 'devoted', an idealized version of the soldier," she notes. "It was partly an attempt to make the citizens at home feel safe, with the idea that Britain had access to so many peripheral troops from the empire. They also used the propaganda as a recruiting tool. Indian troops who recruited more soldiers from their home village were rewarded."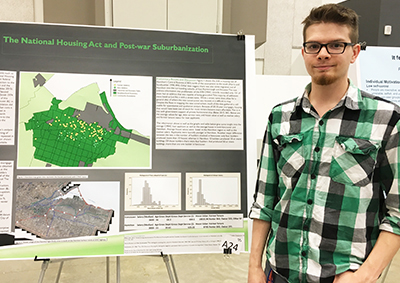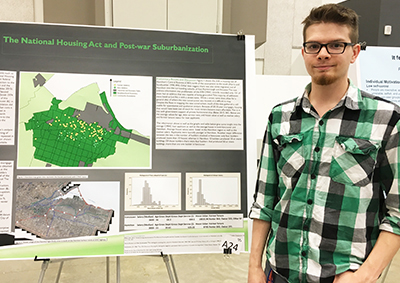 Christian Parr researched the effect of federal funding on Hamilton, Ontario's developing suburban landscape in the 1950s.
"The national housing program [precursor to today's CMHC] didn't create the suburbs, but it certainly did help make them possible," he noted. "That and the rise of the automobile made moving out of the urban core a possibility."
Alanna Strangway presented her honours work in environmental geography on monitoring the spread of invasive plant species in Abbotsford.
She took data collected by the Fraser Valley Regional District and the City of Abbotsford, and analyzed which types of areas certain invasive species (including tansy ragwort, Japanese knotweed, giant hogweed, chervil, and scotch broom) tend to thrive in.
"My research results will help the City of Abbotsford carry out more effective weed management programs," she noted.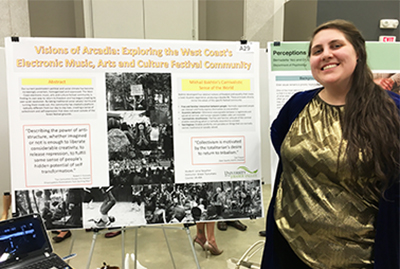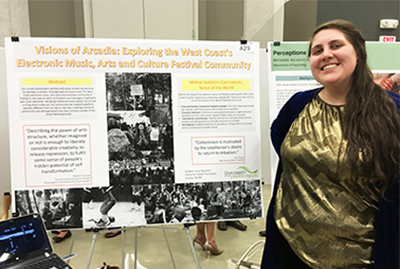 Visual Arts student Lena Yacyshen shared her research and photographs documenting the Arcadia festival as a site for taking traditional social values and norms and "turning them inside out."
"This community is radically different from the 'everyday'," she noted. "Participants subvert the dominant social norms through humour and parody, just like a Medieval carnival."
The Student Research Day also included two-minute student microlectures in the Roadrunner lounge at lunchtime.
At the end of the afternoon, award winners were chosen in various categories.
Winners were:
Jessica Warkentin
Faculty Supervisor: Dr. Leah Douglas
Faculty of Professional Studies Dean Award: $150
Spencer Justice
Faculty Supervisor: Dr. Wayne Podrouzek
Provost and VP Academic Award: $200
Vivienne Beard
Faculty Supervisor: Dr. James Bedard
Associate VP Research, Engagement, and Graduate Studies Award: $150
Audrey Faber
Faculty Supervisor: Dr. Steven Marsh
Dean, College of Arts, Social Sciences Award: $150
Danielle McEwan
Faculty Supervisor: Dr. Prabhjot Parmar
Dean, College of Arts, Humanities Award $150
Hailey Davenport
Faculty Supervisor: Dr. Lesley Jessiman
Vice Provost and Vie-President, Academic $150
Richelle Acreman and Katherine Flach
Faculty Supervisor: Dr. Allan Arndt
Dean, Faculty of Science Award $150
Lena Yacyshen
Faculty Supervisor: Dr. Grace Tsurumaru
Vice Provost and Vice-President, Academic Award $150
Candice Okada
Faculty Supervisor: Dr. Grace Tsurumaru
Award: Dean, College of Arts, Humanities $150
Nick Toews
Faculty Supervisor: Dr. Andrea Hughes
Award: Dean, College of Arts, Social Science Award $150

Manjot Pandher, Delaney Minor and Seth Stenner
Faculty Supervisor: David Dobson
Award: Dean, Faculty of Professional Studies Award $150
Taylor Mutis
Faculty Supervisor: Dr. Kathy Keiver & Dr. Alison Pritchard-Orr
Award: Dean, Faculty of Health Sciences Award $150
Brad Watson
Faculty Supervisors: Dr. Kathy Keiver and Dr. Alison Prichard-Orr
Award: Dean, Faculty of Health Sciences Award $150
Student Research Day is presented by the UFV Research Office.