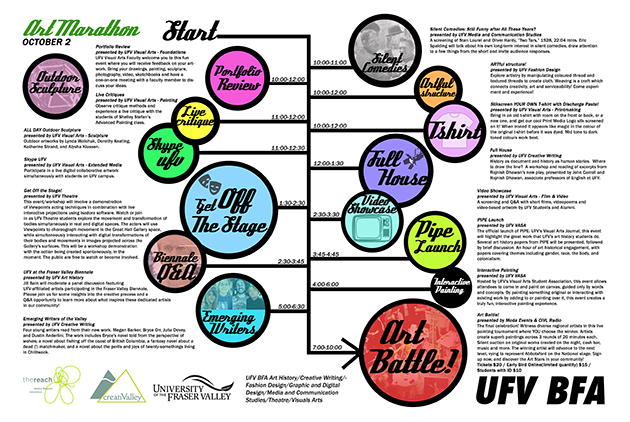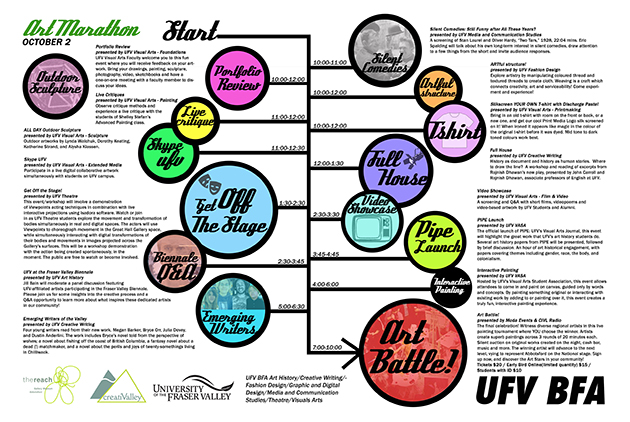 It was a big dose of all things artistic.
The University of the Fraser Valley was an enthusiastic participant in the first creatiValley festival running through Oct 4.
UFV's big day was Friday, October 2 at The Reach Gallery Museum in Abbotsford.
The University of the Fraser Valley (UFV) presented a 12-Hour Multidisciplinary Art Marathon from 10 am to 10 pm on Fri, Oct 2.
The showcase featured UFV students from the disciplines of art history, creative writing, fashion design, graphic and digital design, media and communication studies, theatre, and visual arts.
"We really wanted to showcase as many types of creative activity as possible to illustrate what a hive of creativity our Bachelor of Fine Arts program encourages," said Visual Arts instructor Melanie Jones, who helped organize the art marathon. "Our BFA disciplines form an inspiring and dynamic collective at UFV."
The art marathon included:
live critiques of visual arts students' paintings
free portfolio reviews for aspiring artists
outdoor sculpture displays
live interactive collaborative art via Skype
theatre students demonstrating viewpoints acting techniques using Isadora software
a panel discussion by artists participating in the Fraser Valley biennale
readings by four emerging writers (UFV creative writing students)
an analysis of silent comedies by media studies professor Eric Spalding
weaving demonstrations and hands-on displays by fashion design students
t-shirt silk screening by printmaking students
a reading of excerpts from a new play by English professor Rajnish Dhawan
student video screenings, the official launch of PIPE (UFV's Visual Arts journal)
interactive painting sessions by Visual Arts students.
Visual Arts program head Shelley Stefan conducted live critiques of her student's paintings.
"In a sense, we're bringing our class 'in a bubble' out to the public and letting them watch what happens during a real class session," she notes. "It's a brave move on all of our parts."
The marathon culminated in Art Battle, presented by CIVL, the UFV radio station, and Moda Events. Witness diverse regional artists compete in a live painting tournament where YOU chose the winner.
Art Battle includes a cash bar, music, and silent auction. Admission to Art Battle is $20 ($10 for students with ID).
UFV also participated in CreatiValley via Lit up the Room, a special night for writers and readers at Kariton House on Sept 25, and Ready and True, India and the Great War, a historical exhibition curated by English professor Prabhjot Parmar, which continues through October 4 at The Reach.
Click here for Joy TV video coverage of the event (starts at the 4-minute mark).