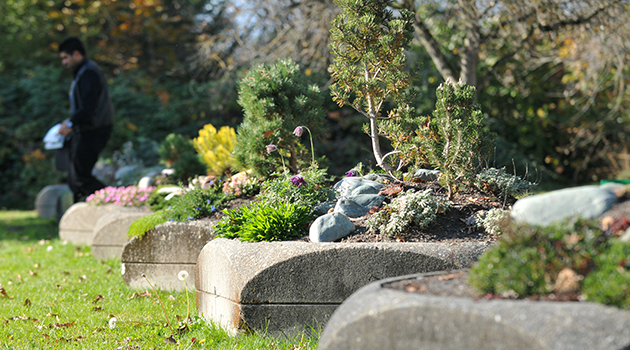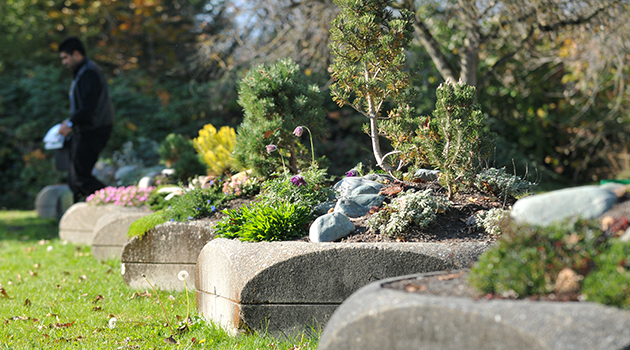 A single, succulent suggestion is helping beautify UFV's Chilliwack campus at Canada Education Park this semester, and beyond.
As those waiting nearby for the UFV/SUS shuttle bus have likely noticed, large concrete planters have sprouted up around Building V, beginning with a line of 11 along the south side. Smaller planters to the north will be relocated as site development proceeds.
As UFV grounds supervisor Greg Aitken explained, the idea to install year-round planters took root after UFV agricultural departmental assistant Shelley Hayes was offered a quantity of succulent plants by former agriculture student Jacki Cammidge, who now owns a small nursery in Grand Forks, B.C. called Blue Fox Farm.
Often low-maintenance plants with thick, water-retaining foliage, succulents were thought to be a solid addition to UFV's campus at CEP. The solution to acquiring affordable planters began to unfold with Aitken's sister-in-law, who works for the City of Vancouver, which no longer wanted planters involved in redirecting traffic along Robson Street after the Olympics.
Aitken applied to acquire three planters which had been banished to storage. Following weeks of back-and-forth, the provincial government agency responsible for them agreed to release 21 planters to UFV.
"They still belong to the province but we were assured that requisition for their use elsewhere is extremely unlikely," offered Aitken.
"So it turned out we paid a total of $1,200 (for shipping)" he said, adding, "Each planter is worth that!"
Since then, drain rock has been sorted and grassy, weedy soil removed. A load of compost facility topdressing soil was acquired to house a varied colour scheme and contour plan for the dwarf conifers, alpines, succulents, and rock that  make up a series of miniature landscapes (called Saikei in Japanese) with the dwarf trees to be trained as bonsai.
Aitken hopes UFV Agriculture students will be inspired to improve their surroundings and learn more about different garden styles, much as Darts Hill Garden in Surrey was begun by livestock raiser Francisca Dart after seeing an alpine garden exhibition.
For more on UFV's agriculture department, visit http://www.ufv.ca/agriculture/.