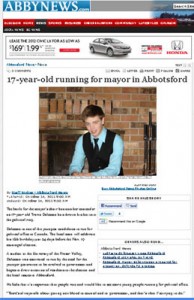 Abbotsford News, Oct. 14 2011
The battle for the mayor's chair has another contender as 17-year-old Travis Daleman has thrown his hat into the political ring.
Daleman is one of the youngest candidates to run for political office in Canada. The local man will celebrate his 18th birthday just 24 days before the Nov. 19 municipal election.
A student at the University of the Fraser Valley, Daleman was motivated to run by the need for the younger generation to be involved in government and hopes to draw attention of residents to the election and the local issues in Abbotsford.
He feels that it's important that people vote and would like to see more young people running for political office.
"There's always talk about getting new blood in council and in government, and that's what I'm trying to do."
Read more: http://www.bclocalnews.com/fraser_valley/abbynews/news/131866963.html#disqus_thread
And from the Vancouver Sun on Oct 14:
Travis Daleman, 17, forgives you for thinking his political ambitions are a joke.
"I completely expect people to take me as a joke at first," said the University of the Fraser Valley student who has set his sights on the Abbotsford mayoralty in the Nov. 19 municipal election.
"At first my friends thought it was ridiculous. And then they were very supportive. I'm hoping if I get the chance to talk with them (voters) … they'll see I'm a serious candidate."