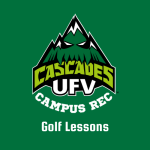 Campus Recreation will be offering a series of "Learn To" programs, which are designed to give individuals an opportunity to experience something for the first time or to brush up on a sport or activity you maybe have not done in some time.
The first "Learn To" session is a series of three, 1-hour group Golf Lessons being offered in partnership with the UFV Women's Golf Team. Lesson topics include learning golf swing technique, putting/chipping and tee shots.
Sessions will run Thursdays from 7:00-8:00pm, August 4, August 11, & August 18.
Lessons will take place at The Chilliwack Golf Club (41894 Yale Road, Chilliwack, BC V2R 4J3)
For more information and to register you can visit our new registration website Xplor Recreation. The course and future "Learn To" sessions can be found under "Registered Programs". Spots are limited; however, if there is a demand we will open a second session from those on the wait list.
–
–
https://ufv.perfectmind.com/25520/Clients/BookMe4BookingPages/BookingCoursesPage?calendarId=0670e424-ad6f-4cb3-a277-1b7587434d76&widgetId=710ab48e-a22c-495a-9dbb-93942adefe98&embed=False
For more information, contact Cheryl Van Nes at cheryl.vannes@ufv.ca
08/04/2022