Darren McDonald has been selected as Associate Director, Communications and began his new role on July 1.
After leaving a successful career in journalism where he rose to the position of editor, Darren has been with UFV since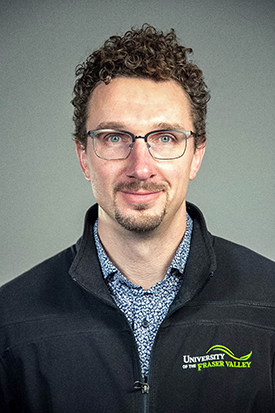 2013 as Communications Specialist. His contributions as a writer and photographer have shaped the stylistic and editorial components of UFV storytelling for nearly a decade. During his tenure, he has travelled to India twice, providing communication support for the campus in Chandigarh.
Darren has evolved from content producer to strategic communicator, participating in crisis communications for the University during COVID and severe weather, leading communications for several campus planning projects, and acting as a back-up spokesperson for media. He is in the final stage of earning his Master of Arts in Professional Communication from Royal Roads University.
In this new role, Darren will implement strategic communication and change-management plans, act as an alternate spokesperson and public information officer in crisis communication situations, and oversee projects that contribute to the achievement of the strategic goals and the mission of the University.