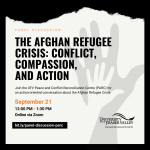 THE AFGHAN REFUGEE CRISIS: CONFLICT, COMPASSION, AND ACTION
AN ACTION-ORIENTED CONVERSATION ABOUT THE AFGHAN REFUGEE CRISIS.
To mark the UN International Day of Peace, and this year's theme of "Recovering Better for an Equitable and
Sustainable World," PARC will host a live virtual panel event titled: The Afghan Refugee Crisis – Conflict,
Compassion, and Action.
Speakers will talk about the lived experience of being a refugee and being resettled, the work of carrying out
resettlement, and the current situation in Afghanistan. Participants will learn about actions that are being taken in Canada and elsewhere, and actions that participants themselves can take.
Steven Schroeder and Geetanjali Gill, UFV PARC Community of Practice commitment leaders, will moderate the event.
Tues, Sept 21
Noon-1:30 pm | ONLINE
bit.ly/panel-discussion-parc
09/21/2021 – 09/21/2021
12:00 pm – 01:30 pm
Zoom – bit.ly/panel-discussion-parc
For more information, contact Elicia Tournier at elicia.tournier@ufv.ca
09/21/2021