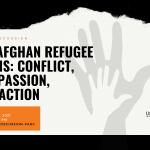 About this event:
Many of us are aware of the unfolding humanitarian and refugee crisis in Afghanistan following the end of a 20-year US-led coalition war. This war culminated in the withdrawal of American troops and its NATO allies, including Canada, in mid-August 2021. Under the backdrop of concern about a potential return to oppressive Taliban rule—and what this will mean for ethnic and religious minorities, women, civil society activists, journalists, collapsed government employees, and those who assisted the coalition forces—Canada has committed to receiving 20,000 Afghan refuges by the end of 2024. Fifty persons arrived in BC in early September with 400 persons expected to arrive in the province by the end of October. Volunteers are already working to assist with the resettlement process.
To mark the UN International Day of Peace, and this year's theme of "Recovering Better for an Equitable and Sustainable World," PARC will host a live virtual panel event titled: The Afghan Refugee Crisis – Conflict, Compassion, and Action. Speakers will talk about the lived experience of being a refugee and being resettled, the work of carrying out resettlement, and the current situation in Afghanistan. Participants will learn about actions that are being taken in Canada and elsewhere, and actions that participants themselves can take. Steven Schroeder and Geetanjali Gill who are UFV PARC Community of Practice Commitment Leaders will moderate the event.
———————————————————————————-
Panellists:
• Fatema Ahmadi, Peace Process Senior Program Officer, United States Institute of Peace (USIP)
• Holly Janzen, UFV Campus Engagement Coordinator, World University Services of Canada (WUSC) Student Refugee Program
• Mansoor Salihe, Human Rights Activist, former Lawyer, and Team Lead for Hearthstone Place, Archway Community Services
• Abdul N. Sana, Former Senior Afghan Diplomat and Independent Consultant
• Jennifer York, Division Manager of Settlement Services, Immigrant Services Society of BC (ISSofBC)
—————————————————————————-
Panellists' Bios:
• Fatema Ahmadi works at the United States Institute of Peace (USIP) as the Peace Process Senior Program Officer for a high-profile peace process initiative in Afghanistan involving Afghan women, journalists, researchers, youth, and community influencers. Fatema led the 'Synergizing Nonviolent Action and Peacebuilding (SNAP)' project, which prepares young people from different backgrounds to initiate non-violent responses to violent actions. Fatema has also managed key partnerships on peace journalism and district-level social peace. Fatema previously spearheaded the development of a trafficking referral form and training manual in Afghanistan. Fatema has also worked with refugee children at the Child Labor Association, as well as through the UNHCR's Afghan Refugee Health Insurance project. Fatema earned a bachelor's degree in Microbiology in Tehran.
• Holly Janzen is a 4th year BA Global Development Studies student at the University of the Fraser Valley. She is also the campus engagement coordinator for the World University Services of Canada (WUSC) Student Refugee Program (SRP) at the University of the Fraser Valley.
• Mansoor Salihe is a human rights activist who advocates for the rights of women, minorities, and other marginalized segments of society in Afghanistan. He was a lawyer in Kabul and moved to Canada in 2017. He is currently a team-lead at Hearthstone Place for Archway Community Services. Mr. Salihe holds a Bachelor of Law (Hons) from Herat University.
• Abdul N. Sana was a senior Afghan diplomat in Washington DC serving as political counselor from 2015 to 2018. Throughout this period, he worked closely with US government agencies on Afghanistan's bilateral political relations including security and development assistance and the fight against terrorism. Prior to that, he served in senior positions in the Afghan Ministry of Foreign Affairs. In his early career, he worked in the private sector executing contracts with NATO and Coalition Forces. He moved to Canada in the end of 2018 and has worked as an independent consultant and in the non-profit sector including Archway Community Services. Mr. Sana has a Master of International Service from the American University in Washington DC and a graduate degree in Political Science and Public Administration from Indra Gandhi University in New Delhi.
• Jennifer York's 16-year career engagement with ISSofBC has included various roles and assignments including frontline work and management in federally and provincially-funded employment and settlement programs. In her current role as Division Manager of Settlement Services, she oversees nine offices in Metro Vancouver to provide a broad range of settlement programming and supports. Jennifer is currently the operational lead for the Resettlement of Afghans to BC for ISSofBC. Jennifer has a Bachelor of Science degree from University of Alberta, an Executive Master of Business Administration, and a Certificate for Responsible Leadership from Queen's University.
———————————————————————————–
Moderators:
• Steven Schroeder, PhD, Associate Professor, History, UFV, and PARC Community of Practice focusing on Trauma Healing and Harm Reduction and Israeli-Palestinian Focus. https://www.ufv.ca/history/faculty-and-staff/schroeder-steven.htm
• Geetanjali Gill, PhD, Assistant Professor, Global Development Studies, UFV, and PARC Community of Practice focusing on the International Refugee Crisis and Experiences. https://www.ufv.ca/gds/faculty/gill-geetanjali.htm
——————————————————————————————–
Link to join:
Please click the link below to join the webinar:
https://ufv-ca.zoom.us/j/63289843070?pwd=VkpvR21hVXpWTUVIa29PU1VaV1h2UT09
Passcode: 771641
Or One tap mobile :
Canada: +16475580588,,63289843070# or +17789072071,,63289843070#
Or Telephone:
Dial(for higher quality, dial a number based on your current location):
Canada: +1 647 558 0588 or +1 778 907 2071 or +1 204 272 7920 or +1 438 809 7799 or +1 587 328 1099 or +1 647 374 4685
Webinar ID: 632 8984 3070
International numbers available: https://ufv-ca.zoom.us/u/gesZtuogI
Tues, Sept 21
Noon-1:30 pm
https://ufv-ca.zoom.us/j/63289843070?pwd=VkpvR21hVXpWTUVIa29PU1VaV1h2UT09
For more information, contact Paulyene Canedo at paulyene.canedo@ufv.ca
09/21/2021