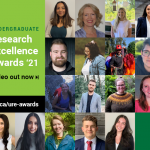 Earlier this month, 32 individuals were recognized with 26 Undergraduate Research Excellence Awards — totaling $26,000 — in honour of their research work as part of the UFV Work-Study program, as research assistants, or for an outstanding research project completed in 2020-2021.
The annual URE Awards are coordinated by the Office of Research, Engagement, and Graduate Studies to recognize undergraduate research excellence across the university. (Award nominations are submitted by departments/schools, based on faculty recommendations, each spring.)
While the URE Awards could not take place in person this year, you can watch the awards video – a 17-minute celebration with lively cameos by 25 students — at http://youtu.be/_q7nYV-feWA.
Personal reflections from each award recipient on their research interests, award-winning project, and next steps in life are available to read at ufv.ca/ure-awards/2021/.
2021 Undergraduate Research Excellence Award Recipients:
COLLEGE OF ARTS
• Communications ($1,000) — Lana Harach for "Mitigating Dangers of Vespa mandarinia (Asian Giant Hornet)." Supervisor: David Thomson.
• School of Creative Arts ($1,000) — Paul Hill for "Systemic White Racism in Canada: A Graphic Novel." Supervisor: Dr. Anna Griffith.
• School of Criminology & Criminal Justice ($1,000) — Ireland Bellsmith and Tripat Sandhu for "Safe Use of Confession Pages." Supervisors: Dr. Amy Prevost and Dr. Hayli Millar.
• Economics — Mika Bachmann for "How different healthcare systems affect the first wave of COVID-19." Supervisor: David Dobson.
• English — Sien Barnett for "Bridging the Gap: Exploring Literary Traditions in Alison Bechdel's 'Fun Home'." Supervisor: Dr. Hilary Turner.
• History — Jordan Sheffield for "Lenin to Lennon: The Role of Rock and Rap in Mongolia's Recent Past." Supervisor: Larissa Horne.
• Media Studies — Aidan Leuszler for "Horror Video Games: Sutoritera." Supervisor: Dr. David Christopher.
• Philosophy — Shannon Pahladsingh for "Do Coral Reefs Love Us Back? The Environmental Ethics of Coastal Tourism." Supervisor: Anna Cook.
• Political Science — Ian Boese for "From Bellwether to Bastion: Analysis of the Party System in the Electoral Districts of Kamloops." Supervisor: Dr. Hamish Telford.
• Psychology — Shelby Shuster for "Women's Sensitivity to Cues of Men's Threat in an Online Dating Simulation and the (In)effectiveness of Online Dating Recommendations." Supervisor: Dr. Shawn Geniole.
• Sociology — Michelle Grafton for "Enforcing the Rules versus 'Doing What's Right': Lived Experiences of Labour and Delivery Nurses in the Context of COVID-19." Supervisor: Dr. Michael Corman.
FACULTY OF HEALTH SCIENCES
• Kinesiology — Jenna Knelson for "MYSelf Club: Virtual intervention for children w/self-regulation challenges." Supervisors: Dr. Alison Pritchard-Orr and Dr. Kathy Keiver.
• Nursing — Leia Perovic for "Exploring the Impact of Nursing Students' Program Experiences on Post-Grad Career Specialty Choices." Supervisor: Dr. Shelley Canning.
FACULTY OF PROFESSIONAL STUDIES
• Adult Education — Philippa Robertshaw for "Challenges and Issues in Supporting ADED Learners Online." Supervisor: Dr. Chris Campbell.
• School of Business — Lahayla Charlie-Campbell, Shreya Joseph, Anureet Kaurha, Trisha Kumar, and Sukhjot Sidhu for "Effects of Message Framing on Building Public Support in Getting the COVID-19 Vaccine." Supervisor: David Dobson.
• School of Social Work and Human Services — Jennifer Banh and Natalie Dahl for "Social work and the practice/pursuit of social justice." Supervisor: Dr. Lisa Moy.
FACULTY OF APPLIED AND TECHNICAL STUDIES
• Physics — Emily Rettich for "Perturbative Contributions to the Isoscalar 0+- Hybrid Decay to pi- b1(1235)+." Supervisor: Dr. Derek Harnett.
FACULTY OF SCIENCE
• Agriculture Science —  Jade Sherwood for "Chemical cues of male and female Leptopilina japonica parasitoids on food substrate of the nation wide berry pest, Drosophila suzukii." Supervisor: Dr. Renee Prasad. External supervisor: Dr. Paul Abrams, Agriculture and Agri-food Canada.
• Biology — Kennedy Zwarych for "Pathogen prevalence in wild bumblebees (Bombus spp.) across the Fraser Valley." Supervisor: Dr. Sandra Gillespie.
• Chemistry — Connor Frey for "Peptide mapping employing pepsin and triethoxysilylbutyraldehyde: Optimizing immobilization parameters via capillary electrophoresis and mass spectrometric analysis." Supervisor: Dr. Golfam Ghafourifar.
• Computer Science — Steven Lawrence for "Improved deep convolutional neural network with age augmentation for facial emotion recognition in social companion robotics." Supervisor: Dr. Amir Shabani.
• School of Land Use and Environmental Change (SLUEC) — Vanessa Brewer and Nicola Ferguson for "Luminescence dating of ancient environments, Hudson Bay Lowlands." Supervisor: Dr. Olav Lian.
SPECIAL AWARDS
• Community Service Research Award — Julia Whittaker (SLUEC Arts) for "Starling Management on Blueberry Fields in East Matsqui: A CityStudio Project." Supervisors: Larissa Horne and Dr. Mariano Mapoli.
• Indigenous Research Award – Alice Clark (English) for "True Patriot Love? Exposing the Illusion of Canadian Multiculturalism Through Indigenous and Immigrant Literature." Supervisor: Dr. Michelle La Flamme.
• Industry Engagement Award — Maciej Kaczor (Electrical Apprenticeship) for "Automated Honey Extraction System Project." Supervisor: Daniel Smythe. Industry partner: Worker Bee Honey Co.
• Industry Engagement Award —  Holden Pimentel (CIS) for "The Rolling List Software." Supervisor: Dr. Opeyemi Adesina.
Congratulations to all of the award recipients, and a special thank you to the faculty research mentors who invested significant time and care into cultivating enjoyable, rigorous, and fulfilling undergraduate research experiences for their students!
For updates regarding next year's URE Awards, please bookmark www.ufv.ca/URE-awards or subscribe to the UFV Research Office's monthly newsletter by emailing regs@ufv.ca, subject line "Subscribe to E-News."
https://www.ufv.ca/ure-awards/2021/
For more information, contact Danielle Mijo-Burch at danielle.mijoburch@ufv.ca
08/31/2021