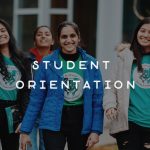 Hello UFV staff & faculty!  
You might be wondering what Orientation looks like this year –  both students who are new to UFV, and students who are continuing their studies –  as we return to on-campus classes and activities in the Fall semester.  
Keep reading for a summary of what the Student Life Orientation Team has planned for all UFV students this Summer & Fall, how you can help share these resources, and ways that our team can support you as you promote your department's services and connect with students at the start of the semester. You can also visit the Orientation events page to learn more about each component, and follow us on Instagram, Facebook, and Twitter for regular updates! 
 Smart Start online orientation – August 2021 
This non-credit course, hosted on Blackboard, highlights important information and key support services, available to all UFV students, for personal wellness and academic success. Staff and faculty can be given advanced access to access to a special preview course to get an idea of what's included and to provide feedback to the orientation team. To self-enroll in this preview course, do the following: 
Log into Blackboard

 
Click on the "courses" tab in the top right

 
Type "Smart Start Orientation Preview" in the search tab in the top left

 
Click on the small down arrow to the right of the course title and select "enroll"

 
Select "submit"

 
Stuck? Watch this helpful video from Teaching & Learning that shows how to self-enroll in a blackboard course 
Campus Wayfinding Tours — August & Sept 2021 
Small-group campus tours will be offered to help students from the 2021-22 and 2020-21 incoming classes feel safe and confident navigating the physical UFV campus, and comfortable interacting in small groups of their peers. Students can book tours online via the wayfinding tour website. Trained student volunteers, as well as staff and faculty, are invited to sign up online to lead campus tours throughout August. 
Online Invocation Ceremony — Sept 8, 2021 
Building on the success of our 2020 Fall ceremony, UFV students, staff, and faculty have filmed a short video to welcome students from the 2021-22 incoming class to our UFV community! Everyone is invited to attend the Invocation video premiere on our Orientation Youtube channel on Sept 8 as a live watch party, and the recording will be posted afterwards on the Orientation events website and in the Smart Start course for all to enjoy. 
 Welcome Weeks activities — Sept 13– 30, 2021 
Welcome weeks are for all UFV students! We're excited for the return of this collaborative, multi-day event for UFV students, staff, and faculty to promote their groups and services, and connect with new, continuing, and current UFV students. If your group or department is planning on hosting an informational or engaging event for any student audience between September 13 and 30, make sure to list your events on myCampusLife and the UFV events calendar so we can advertise your event as part of the Welcome Weeks series! Find more information, including instructions on how to list your event, on the Welcome Weeks page. 
Ask Me Stations — Sept 13– 16, 2021 
With many students returning to classes on campus, Ask-Me stations are back! Look for tables in various locations on the Abbotsford and Chilliwack campus during the week of classes in Fall 2021. Student, staff, or faculty volunteers are welcome! Please contact orientation@ufv.ca if you're interested in hosting an Ask-Me station for an hour or two at the start of the semester. 
Additional opportunities: 
Is your team planning on hosting an event or activity over the summer or the first few weeks of the Fall 2021 semester focused on informing or engaging students? Reach out to Orientation team at orientation@ufv.ca so we can support you in getting the word out to new and continuing students this fall. 
 Help spread the word about volunteer opportunities with students in your area! Current UFV students can find out more information and apply online to become Orientation Ambassadors. 
 Any questions or comments? Contact the Transition & Engagement Co-ordinators on the Student Life Orientation Team at Sarena.Favaro@ufv.ca or Hillary.Rowe@ufv.ca  
https://www.ufv.ca/current-students/new-students/orientation-events/
For more information, contact Hillary Rowe at orientation@ufv.ca
09/30/2021