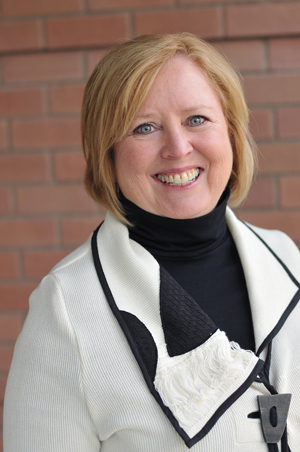 Dr. Maureen Wideman joined UFV on January 13 as the new Director of Teaching and Learning, replacing the recently retired Dr. Wendy Burton.
Originally focused on business communication early in her career, Maureen pursued a master's degree in online learning in the late 1990s because, as she puts it, "I thought that this Internet thing would be big!" and she wanted to be on the forefront of helping faculty members and students learn to use it for educational purposes.
Maureen was most recently on secondment as the Manager of Disability Services at the University of Ontario Institute of Technology (UOIT).
She spent 11 years at UOIT, mainly in the area of faculty development and educational technology.
"I assisted faculty in the transition from traditional teaching environment to one that was more technologically savvy and inclusive, using creative educational technologies and techniques."
She says she is looking forward to assisting UFV to develop the opportunities around its educational goals, especially as they relate to a teaching-centric university and its evolving educational technology.
"I want to help UFV to continue to be responsive to the needs of its communities and students."
She has also been a Faculty Development Consultant at UOIT; Web Content Coordinator, Durham College/UOIT (2002–03); and Web Communications Coordinator, Trent University (1998–2002).
She holds a Bachelor of Applied Arts, Journalism: Business Communications, from Ryerson Polytechnical Institute (1982), a Master of Arts, Canadian Studies: Canadian Heritage and Development Studies, Trent University (1997), a Master of Science, Education: Online Teaching and Learning, California State University (2001) and a PhD, University of Toronto, Ontario Institute for Studies in Education, Curriculum, Teaching and Learning/Computer Applications (2009).