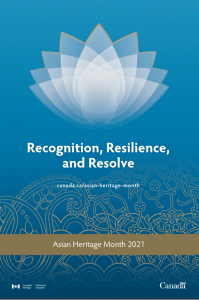 The South Asian Studies Institute at the University of the Fraser Valley is pleased to be commemorating #AsianHeritageMonth in the month of May. This month has much deep resonance, meaning and purpose to us as Canadians as we shine a light on the many diverse and far reaching contributions and impacts of Asian Canadian individuals and organizations on life in Canada and beyond.
Today, in particular SASI expresses solidarity in the ongoing critical work to mitigate anti-Asian racism, xenophobia and violent attacks of racism against those of multiple identifying Asian backgrounds. The SASI stands in solidarity and in support to all those who still have to face harm, hate and racism.
The work to commemorate Asian Heritage Month is in tandem with addressing the systems of white supremacy in this Province that have been a reason for the rise in violent anti Asian hate. Yet, we also work to amplify the good, meaningful and critical work being done across the Province to mitigate this harm.
The SASI's South Asian Canadian Legacy Project is one particularly important project that continues to build Province wide capacity in acknowledging, digitizing, teaching and building a large corpus of BC's South Asian communities history and present.
Two videos have been launched highlighting two sites of historical significance for South Asians across the Province: A History of Abbotsford's Gur Sikh Temple and Solidarity Lives.
In addition, the SASI is understanding research based on the ongoing Farmers Protest movement in India including by hosting an online webinar with Dr. Jodhka, Professor at Jahawarlal Nehru University and hiring a research fellow Dr. Inder Mann to research the diasporic connections to the protest. The SASI also continues to celebrate its newly launched exhibit at the Sikh Heritage Museum on the history and impact of the Komagata Maru.
Taking full advantage of the virtual nature of all events, we encourage all people, educators, community members, etc., to view the links and learn about the exhibit and awareness work being undertaken.
SASI Director Dr. Satwinder Bains will be speaking to the Privy Council of Canada on South Asian Canadian contributions to Canadian society as part of the Government of Canada's commitment to equity, diversity and inclusion. As well, Dr Bains is part of an Asian Heritage Month video on behalf of the National Film Board of Canada and the Department of Canadian Heritage. Dr. Bains is also a member of the steering committee on the National Conversation on Anti-Asian hate, hosted by UBC (#stopasianhate). Dr. Bains is contributing to Destination BC's social media campaign on Asian heritage sites as part of Asian Heritage Month to raise awareness about the racialized histories of the Asian historic sites and educate for tourism in the summer. The National Historic Site Gur Sikh Temple, Abbotsford BC will be a part of this campaign.
Sharanjit Kaur Sandhra, the SASI's coordinator, moderated the LiterAsian opening festival titled Intersectionality, Feminism and Power featuring authors Sarah Suk, Larissa Lai and Grace Eiko Thomas.