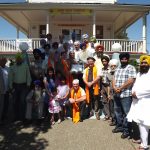 Two very generous donations have been made to the Sikh Heritage Museum, located in the National Historic Site Gur Sikh Temple. After connecting with The Centre for Indo Canadian Studies, Hardev Singh Shergill of the Khalsa Tricentennial Foundation donated his entire collection of books and videos related to Sikh history, culture and religion. These books, some now out of print, are an incredibly valuable resource to any scholar wishing to research Sikh related topics.
Another donor, Narindar Singh Dhesi is a researcher and author of a number of books on Sikh soldiering traditions. Narindar also very kindly donated his works to be stored at the Sikh Heritage Museum.
These books are available as reference only at the Sikh Heritage  Museum, which is located at 33084 South Fraser Way, Abbotsford, BC V2S 2A9.