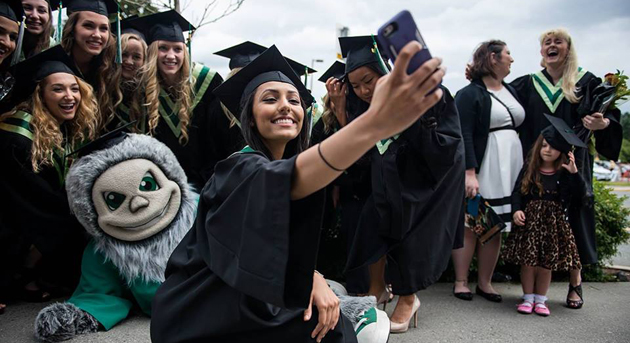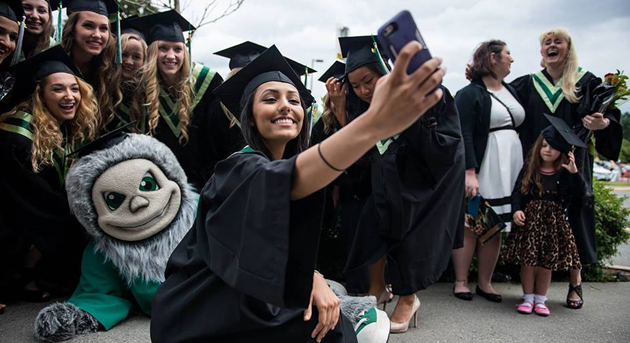 Families cheered and friends applauded as graduates crossed the stage during four University of the Fraser Valley Convocation ceremonies, held June 2 and 3 at the Abbotsford Centre.
More than 2,300 students earned more than 2,800 credentials at UFV this year, and many of them gathered to formally celebrate and bask in their moment of glory.
UFV president Mark Evered encouraged the graduates to adhere to the "4 Rs", after sharing with the audience the sad news that he and his wife Maureen have been grieving the loss of their daughter Andrea for the past year.
"As I told the graduates last year, be rebellious but responsible and respectful. And this year I am adding a fourth R word, resilience: the ability to spring back, to recover, and to move forward. Because your journey probably hasn't been, and won't be, smooth," Evered said.
"Everyone in this room who has invested in you, who is counting on you, needs you to be resilient. We need you to have the courage and resolve, and the strength of character to carry on, to matter what comes at you. We need you to have grit."
Student speakers addressed the crowd at each of the four ceremonies.
Bachelor of Science graduate and student speaker Josha Ho of Abbotsford spoke about how students are all influenced by their family of origin, but also by the family-like connections they build at UFV.
"You walk into class not knowing what to expect…. But eventually, UFV shifts to be a family. You start to pick up quirks from the people you take classes with, and you do things in the same ways that your professors do."
He told fellow graduates that they needed to bring that sense of family to their next stage in life.
"Gather a family around you that you can rely on and that you can contribute to. In the end this is going to be a mixture of all of your nuclear family, your UFV family, and any others you have."
Bachelor of Arts graduate and student speaker Terrill Smith of Chilliwack urged his fellow graduates to not let fear of failure hold them back.
"Of course, not everything you try will work out. But to not try, at all, will ultimately prevent you from achieving personal goals and fulfillment. Only through trying can you successfully realize your potential and, perhaps most importantly, life a live of meaning. Don't wait to voice your opinion, for fear that others will fail to support it. And don't wait to make your beliefs known, for fear that others will fail to understand them. Because really, you can't afford to be afraid, since a life dictated by fear is no life at all."
Bachelor of Business Administration graduate and student speaker Thomas Davies of Chilliwack, who also served as Student Union Society president this year, encouraged fellow grads to find their passion and support one another.
"When you find yourself doing things that you love, you are creating your best self," he said. "Moving forward from today, we are all intrinsically linked together as graduates of UFV. President Evered likes to say that the value of a university is measured by the success of its graduates. Well, then we all should be cheering each other on, and enabling our fellow alumni to lead successful lives. When one of us succeeds, we all succeed, and the value of our education increases."
Hospitality Event Planning graduate and student speaker Tery Kozma of Abbotsford, who returned to school at age 50 to launch a new career after spending part of her 40s living in a tent in a homeless camp, thanked UFV for helping a mature student like herself to turn her life around.
"Taking this program has helped my self-esteem. It's helped my self-discipline. It has also given me the knowledge and confidence in creating, developing, and executing events. On behalf of all my fellow graduates — thank you to all our professors for enriching our lives with your knowledge."
UFV awarded honorary doctorates to business titan Luigi Aquilini, lawyer and Paralympian Halldor Bjarnason, artist and activist Linda Frimer, and educator and community leader George Peary.
Several student medals were also awarded.
Kristy Kardos (Social Work) received the Governor General's gold medal for excellence at the master's level. Alyssa Zucchet (Science) won the Governor General's silver medal, recognizing excellence at the bachelor's degree level. Courtney Verbeek (Graphic + Digital Design) was Governor General's bronze medalist for achievement at the diploma level. And Rebecca Noort (Hospitality Event Planning) was named Lieutenant Governor's medal winner for excellence in a certificate program.
Dean's medalists were: Shyna Kanda (Science), Jessica Walesch (Health Sciences), Raelynne Schulz (Humanities), Sophie Smit (Social Sciences), and Susan Hunt (Professional Studies).
Professor Martha Dow (Social, Cultural, and Media Studies) received the Teaching Excellence award. The Research Excellence award went to Derek Harnett (Physics).
Retiring professor Betty-Joan Traverse (Modern Languages) received professor emeritus status, and founding librarian Betty Harris was named librarian emeritus.
The Betty Urquhart Community Service award went to Elizabeth Melnick of Elizabeth's Wildlife Centre in Abbotsford.
-30-