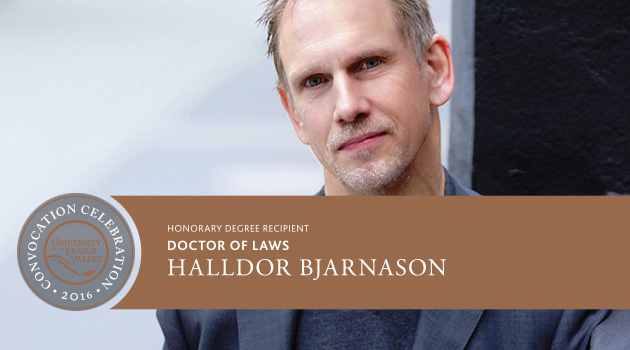 Halldor Bjarnason knows all about overcoming barriers. The cerebral palsy he was born with affects his movement and his speech. It crushed his dream of becoming a firefighter, a profession for which he still cares deeply.
Halldor was a bright child, and his mother fought to get him into regular school in an era when children with disabilities were often segregated.
He excelled and eventually became a lawyer. But even that wasn't easy.
Law school at Queen's University went well, but he had a hard time finding a firm to take him on full time after articling. Undaunted, he built his own practice in Vancouver, specializing in estate issues affecting families with dependents with disabilities.
Along the way Bjarnason became an elite athlete, competing with the Canadian National Disabled Cycling Team, including at the 1998 and 1992 Paralympics in Seoul and Barcelona. In Seoul, he set the 1500m tricycle sprint world record and won the gold medal.
For his tenacity, courage, and leadership in advocacy for people with disabilities, Bjarnason will receive an honorary Doctor of Laws degree from the University of the Fraser Valley at its June 2 morning convocation ceremony at the Abbotsford Centre.
He's not working for the glory, and was surprised to hear that he'd been chosen for this recognition.
"I'm both delighted and honoured to be receiving this honorary doctorate from the University of the Fraser Valley," he notes. "It is a pleasure to work within the community — being able to help others is a gift unto itself. However, there's something special about having others recognize your efforts — it confirms that maybe you're not as crazy as you sometimes think you are when putting in the long hours."
Bjarnason has now been a practising lawyer for 25 years, and an advocate within the system for people with disabilities, in general, and lawyers with disabilities in particular. He has a thriving practice with Access Law Group. As the founding chair of the Law Society of BC's Disability Working Group, he led the creation of reports about barriers to equality for lawyers with disabilities. He has mentored high school students and law students with disabilities.
Bjarnason has helped countless people with disabilities set up trusts to ensure a steady income, and worked with many organizations that support people with disabilities. He has written dozens of articles on trusts, and has edited three editions of the How to Create a Trust — the most widely referenced manual on trusts and BC disability benefits.
As counsel, Bjarnason has appeared in court many times to create, amend, and collapse trusts for persons with disabilities.
Never one to pass up an opportunity for adventure, Bjarnason recently spent three days on the set of the movie Boundaries. He acted alongside silver screen legends like academy award winner Christopher Plummer, Peter Fonda, Christopher Lloyd of Back to the Future fame, and academy award nominee Vera Farmiga.
Besides his professional work, as a single parent, Bjarnason is a leader with his young son Elliot's Cub Scout pack, and serves on his school's parent advisory committee in Surrey.
He fuels his lifelong passion for fire and safety issues by volunteering with the City of Vancouver's Emergency Social Services program and serves as a team and advisory council member of the Vancouver Fire Rescue Service's Neighbourhood Emergency Assistance Team. He also wrote a book about the history of the Fire Department in Winnipeg, his hometown.
He has also served on the boards of many community organizations including the Neil Squire Foundation, the Planned Lifetime Advocacy Network, the First Baptist Foundation, and Theatre Terrific Society.
Bjarnason's work, in his profession and in the community, has earned him both a Canadian Bar Association Community Service Award and the Coast Foundation's Courage to Come Back Award.
-30-