Welcome to the new employees who joined us in March and April as well as some current employees that have moved into new positions. And congratulations to the temporary employees that have now become permanent! We are very excited to have you join the UFV team.
NEW EMPLOYEES TO UFV
Candace Stewart-Smith, Director,  Centre for Experiential & Career Education
Alysha Mahil, Coordinator, South Asian Studies Institute
Megan Kjestrup, Advisor, Centre for Accessibility Services
Felipe Osmar Lopes, Regional Manager, International Student Recruitment
Meghan Helmer, Practicum Coordinator, Continuing Education
Adalie Schnider, Student Recruiter
TEMPORARY EMPLOYEES AWARDED PERMANENT POSITIONS AT UFV AND MOVES
Congratulations to Aakash Dean, Coordinator, Study Abroad, UFV International who moved into the permanent position of  Coordinator, Study Abroad, UFV International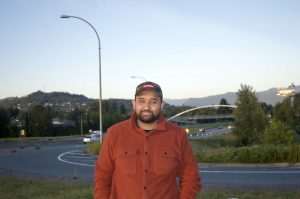 I started my journey at UFV at UFV Chandigarh in 2018 as a student studying Bachelor of Business Administration. I transferred to UFV Canada during the most unpredictable time of Covid-19 which was a great challenge. The journey of reaching Canada seemed full of hurdles. While waiting to reach Canada, I spent months studying online taking classes at UFV at odd hours due to time zone differences. I would not deny the fact that at some point I believed that I would never be able to reach Abbotsford if the pandemic continued, however, as it was often said that the good thing about the challenging time is… it passes and fortunately, after months of waiting, I was able to arrive in Canada where I first served in the hotel quarantine for three days, then home quarantine for another two weeks before I was allowed to witness beautiful British Columbia. I could not have imagined graduating with a Bachelor of Business Administration (majoring in Human Resource Management) with 8 Dean's list recognitions, 2 Scholarships, and a suitcase full of memories and emotions away from my family. 
 In 2022, I walked past the stage of the convocation and got to experience the feeling of moving the tassel from right to left. Soon after, my role at UFV switched from a student to an employee when I joined the Campus Card Office as an auxiliary employee, which I believe was a life-changing experience for me. At the card office, under the guidance of Sheila St. Laurent (Coordinator, Campus Card) I got a chance to meet hundreds of students every day and realized the importance of every employee's contribution towards enhancing the student experience. The working culture and environment I noticed during my work made me wish to stay at UFV longer. 
In October 2022, I joined the amazing UFV International Team as a temporary Study Abroad Coordinator with the zeal and enthusiasm to facilitate students in achieving their extraordinary study abroad experiences. Within no time, I started to enjoy the responsibilities the new role had to offer. And finally, as of March 2023, I am delighted to share that I am now a permanent Coordinator, Study Abroad at UFV International. 
Currently, I am taking care of the student exchange mobility, i.e., students who are interested in studying abroad and students who join UFV as exchange students. I collaborate closely with international partner universities and internal UFV departments by providing guidance and support to students, creating meaningful experiences to facilitate student experience. I aspire to create unique opportunities for students to learn and grow outside of their home countries, help students expand their cultural understanding, and build lifelong experiences. 
Apart from my professional side, I enjoy travelling and while travelling I enjoy creating some Instagram reels to capture the memories of the places I visit and most importantly the food there. I am a coffee enthusiast and love the concept of having coffee in every city I visit. I am thoroughly enjoying my time here and I look forward to building new connections with this beautiful community 🙂
and congratulations also to:
Chandra Deo, Assistant to the Associate Vice President & Director, UFV International
Starlyn Brines, Assistant, Enrolment & Records
Theresa Kozma-Gahwiler, Department Assistant, Indigenous Student Centre
Rubinder Bhatti, Assistant, Enrolment & Records
Michael Fischer, Facilitator, Learning Support
Don Tran, Financial Analyst & Liaison
Varshaa Kashyap, Administrative Assistant, Advising Centre
Rebecca Fry, Operations Coordinator, Vice President, Students
Amish Goel,  Analyst I, Service Desk
Nina Kumar, Assistant, Scheduling
Paulyene Rodrigues da Costa Canedo, Strategist, Digital Communication