Welcome to the new employees who joined us in November as well as some current employees that have moved into new positions. And congratulations to the temporary employees that have now become permanent! We are very excited to have you join the UFV team.
NEW EMPLOYEES TO UFV
Welcome to Kelly Murphy, Senior Advisor, Human Resources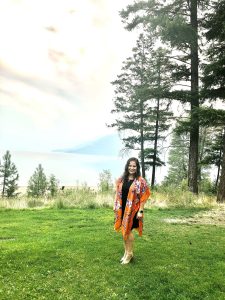 Hello, my name is Kelly Murphy, and I am very excited to have joined the amazing HR team at UFV, as a new Senior Advisor.
I was very fortunate to be chosen as the successful candidate, as in my short time with UFV, it is evident that the organization, faculty, staff, and colleagues are truly a supportive and amazing community.
I was born and raised in Trail, BC and moved with my family to Abbotsford at the age of 3 and have planted my roots here ever since.  I started my educational journey after high school in the Sciences attending UVIC, but although I had taken the sciences throughout my high school career, I decided to change my learning trajectory and returned to Abbotsford to pursue and complete my BBA certification at UFV.
My HR career began working in the private sector for over a decade, where I had the opportunity to learn from amazing mentors.  I then transitioned to the public sector, working as a HR Specialist, with a focus on recruitment, development and marketing, beginning with the Surrey School District for over ten years and then to the Chilliwack School District for a duration of almost four years as Human Resources Manager.  Prioritizing learning and development is extremely important to me, and as such, I have also obtained my CPHR and SHRM designations.
My passion for HR encompasses our role in the organization to help with improvement and efficiencies, be it a new strategy to help employees with their development, a training plan, or the creation of partnerships with clients and managers to help them with development and relationship building within their department.  I truly enjoy helping employees realize their full potential, being an advocate for diversity and working together to promote work environments which help improve employees' productivity and motivation.
In my time away from work, I treasure the time spent with family and friends, illustration, artwork, interior design and most importantly, laughter.
and also to:
Doran Hoge, Director, Energy and Environmental Sustainability
Fizza Haider, Learning Designer
Curtis Horner, Generalist, Logistics
Amy Webster, Assistant, Student Services
EMPLOYEES AWARDED PERMANENT POSITIONS AT UFV
Kristy Kim, Assistant, Enrolment & Records
Chelsea Paulk, Assistant, Enrolment & Records
Kurt Siemens, Assistant, Quality Assurance, Accreditation & Stakeholder Engagement
EMPLOYEES THAT HAVE MOVED INTO NEW POSITIONS AT UFV
Mark Fischer, Manager, Operations & Planning in the College of Arts
Courtney Boisvert, Learning Designer
Tara Kaszonyi, Strategist, Curriculum & Learning
Madi Kemball, Analyst II, Security
Elissa Toews, Officer, Admissions