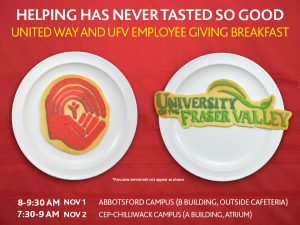 As UFV's United Way campaign administrator, I have the pleasure of inviting you to our kick-off pancake breakfast on November 1 in Abbotsford and November 2 in Chilliwack. Come in to work a little early to enjoy a scrumptious breakfast of pancakes, sausage, eggs, coffee, juice – the works – served up by United Way representatives and many of our own UFV colleagues and senior management, to support those in need! Prizes donated by the HR department will be drawn throughout the campaign for all those that donate to either UFV or United Way, and a grand prize will be up for grabs for one lucky winner that attends the breakfast in person!
We run the United Way campaign as a joint initiative with UFV's Advancement office and their Employee Giving campaign. This partnership is so successful and allows our employees to choose the charity that they have the strongest connection with.  This year UFV is focusing on supporting the Emerging Priorities Fund and of course, if you choose to donate to the United Way you will be helping kids and youth, seniors, your community or any charity of your choice. Making a difference is a great feeling when you know you've helped someone, solved a problem and changed a life!  Click here https://connect.ufv.ca/make-a-difference-employees for the pledge form and submit it to me in Human Resources.
The payroll deduction system makes it so simple to give to those less fortunate in our communities. I always thought that if every UFV employee donated just one dollar from each paycheque, so many lives could be positively impacted.
Don't miss out on this fun-filled morning that promises to bring you entertainment, information and enjoyment!