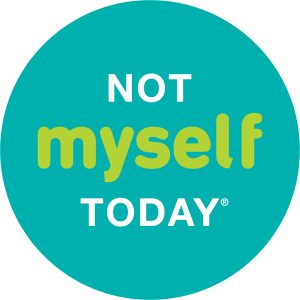 To support our institution in its commitment to provide resources to improve and maintain good mental health, a second workshop series of Not Myself Today®, an initiative of the Canadian Mental Health Association, starts in September, 2022. This program will be delivered in five workshops over the coming weeks and months, and we encourage you to explore the resources, tools and activities that will be offered in our workplaces, and that are available to each of you to explore online 24/7.
Register: https://www.eventbrite.com/e/not-myself-today-tickets-400798447947
Workshop 1 – Learning the Basics
First module will focus on creating a foundation for increased mental health awareness, improved understanding, and reduced stigma to foster a safe, supportive, and mentally healthy work environment.
Date: September 28, 2022
Time: 11 am – 12:30 pm
Location: TBC
Takeaways:
Mental Health 101
Language Do's and Dont's
How to Tell if Someone is Struggling with Their Mental Health
Workshop 2 – Working with Emotions
Learn skills and knowledge to help identify, understand, and work with your own emotions, and those of others.
Date: October 12, 2022
Time: 11 am – 12:30 pm
Takeaways:
Train Your Brain to Master Your Mood
Tips to Improve Your Emotional Intelligence
Workshop 3 – Addressing Stress
Develop resilience by learning where stress comes from, what strategies can help manage it, and what tools and resources are available to support mental health and well-being.
Date: November 2, 2022
Time: 11 am – 12:30 pm
Takeaways:
Identifying Job-related Stressors
Tips to De-stress at Work
Mindful Moments
De-stress Tips for Teams
Coping with Crisis and Change
Managing Your Team Through Crisis and Change
Workshop 4 – Building Culture
Set conditions for a psychologically safe and supportive work environment by building knowledge and practical skills that empower employees.
Date: November 23, 2022
Time: 11 am – 12:30 pm
Takeaways:
Your Role in Fostering a Positive Work Culture
Supporting the Mental Health of Your Team for Managers
Why Kindness Matters
Quick and Easy Ways to Practice Gratitude Every Day
Setting Conditions
Building Psychological Health and Safety in a Remote Setting
Workshop 5 – Talking Openly
Foster an atmosphere of respect, inclusion, and psychological safety by giving employees at all levels the knowledge and tools to engage in open, productive dialogue.
Date: December 7, 2022
Time: 11 am – 12:30 pm
Takeaways:
Navigating Disclosure
Responding to Mental Health Concerns for Managers