Welcome to the new employees who joined us in July and August as well as some current employees that have moved into new positions. And congratulations to the temporary employees that have now become permanent! We are very excited to have you join the UFV team.
NEW EMPLOYEES TO UFV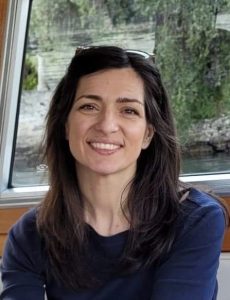 Welcome to Valentina Proietti, Assistant Professor, Psychology   Hello, my name is Valentina Proietti and I am a new Assistant Professor with the Department of Psychology at UFV. I was born and raised in Italy in a town close to Milan, and after obtaining my PhD and working as a clinical psychologist in Italy, I moved to Canada to continue my academic career as a post-doctoral research fellow at Brock University and Nipissing University (Ontario). After these amazing experiences, I finally arrived in beautiful British Columbia in 2018 to start my teaching career and am now very excited to join the faculty here at UFV! Throughout my academic career my research interests have focused on the investigation of face processing skills (i.e., identity recognition, emotion processing and trait judgment based on facial cues) and their development throughout the lifespan. Recently I have developed a new line of research on dehumanization, the tendency to view some individuals as less human than others, which may have important implication for race, age and gender-based discrimination. In line with my previous experience as a clinical psychologist and with my research interests, I teach courses in the areas of Clinical Psychology and Developmental Psychology.
Outside of academia, I am a proud mamma of three kids (1, 4 and 6 year-old) and partner to Shawn who is also a member of the Department of Psychology. We are thrilled to be working together here at UFV! As a family we love experiencing nature, traveling (especially to Italy 😉) and fun adventures.
Kevin Jeske, Director, Advisory Services & Labour Relations, HR
Javad Hadian, Assistant Professor, Agriculture
Keltie Ross, Librarian
Vincent Pagot, Building Maintenance Worker, Facilities
Allyson Jule, Dean, Faculty of Education, Community, and Human Development
Giuseppe Condello, Productions Manager, Theatre
Brigid Egan-Pimblett, Senior Accountant, Statutory Reporting, Financial Services
Somayeh Faghanipour, Assistant Professor, Nursing
Stephanie Johnston, Assistant Professor, Criminology
Mark Kersten, Assistant Professor, Criminology
Dina Navon, Assistant Professor, Biology
Eiji Okawa, Assistant Professor, History
Madison Pesowski, Assistant Professor, Psychology
Noah Schwartz, Assistant Professor, Political Science
Tony Biondi, Strategist, Digital Engagement
Sara Brune, Assistant Professor, Nursing
EMPLOYEES AWARDED PERMANENT POSITIONS AT UFV
Alyson Gher-White, Coordinator, Indigenous Student Transition & Engagement
Sarah Beaulieu, Assistant Professor, School of Culture, Media and Society
Russell Campbell, Assistant Professor, School of Computing
Ismail El Sayad, Assistant Professor, School of Computing
Maecyn Klassen, Library Technician, East
Trevor Murray, Assistant Professor, Electronics
Alex Palameta, Assistant Professor Physics
Samantha Riarh, Assistant Professor, Nursing
Madison Soriano, Advisor, Centre for Accessibility Services
Lindsay Spielman, Assistant Professor, Nursing
Jacob Spooner, Assistant Professor, Chemistry
Nicole Stewart, Assistant Professor, Communications
Mark Thomson, Assistant Professor, Philosophy
EMPLOYEES THAT HAVE MOVED INTO NEW POSITIONS AT UFV
Tracy Morrison, Manager, Office of the AVP, Research Engagement and Graduate Studies
Darren McDonald, Associate Director, Communications
Kristi Wood, Director, Client Experience
Sumitra Robertson, Assistant to the Dean, College of Arts
Devon Bailey, Sr. Officer, Annual Giving, University Advancement
Sanjit Bhalru, Manager, Student Wellness
Alana Dallaire, School Assistant, School of Computing
Kelly Guiaya, Coordinator, Field  Ed, School of Social Work& Human Services
Tara Kaszonyi, Coordinator, Practicum, Continuing Education
Liana Thompson, Executive Director, Student Academic Affairs
Cynthia Thomson, Assistant Professor, Kinesiology