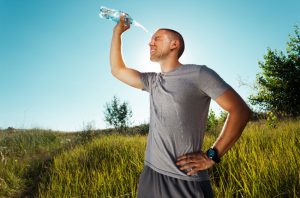 I've encouraged you all to "don't hide – get outside" but I wasn't anticipating such a spike in temperature like we've experienced the past few days! Environment Canada has issued a heat warning for most of British Columbia with temperatures expected to reach higher-than-normal, which started on Friday, June 24 and is expected to last through Tuesday, June 28 (although I do see that cooler temperatures and some rain are now in the forecast).  See the detailed heat warning from Environment Canada.
But even though we will get a reprieve, we are bound to see the heat surge several more times over the coming months, so please continue to work on your physical and mental health, but take into consideration the environmental factors and protect yourself and those around you during times of extreme heat. Heat is dangerous for our health and wellbeing and is responsible for the highest number of weather-related deaths annually.
On especially hot days, please stay safe by choosing activities such as water workouts like swimming, surfing or stand-up-paddle boarding (SUP). These activities will help you to stay fit and healthy in the summer in a fun and new way while also staying cool. When the mercury rises, many people flock outside to jog, play basketball or do yard work, but these types of exercises become a huge physical undertaking in the heat, and intense exercise can be deadly. If your body's temperature regulation system is overtaxed, you're at risk of developing a heat-related illness. Please pay attention to the warning signs of heat-related illness:
Muscle cramps
Nausea or vomiting
Weakness
Fatigue
Headache
Excessive sweating
Dizziness or lightheadedness
Confusion
Irritability
Low blood pressure
Increased heart rate
Visual problems
If you develop any of these symptoms, you must lower your body temperature and get hydrated right away. Stop exercising immediately and get out of the heat. If possible, have someone stay with you who can help monitor your condition.
The Government of BC is advising the public to take precautions to protect yourself and those around you during times of extreme heat. These include:
Dress for the weather – Wear loose, light-weight clothing.
Avoid sunburn – Stay in the shade or use sunscreen with SPF 15 or more.
Conduct regular checks on vulnerable people including,

Individuals who live alone, particularly seniors, who are at high risk of heat-related illness.

Access air conditioned spaces or community cooling spaces, such as:

Libraries, community centres, shopping malls, movie theatres, religious centres, parks, and other shaded green spaces.

Keep your home cool – Open windows, close shades, use an air conditioner (if you have one) and prepare meals that do not require an oven.
Avoid tiring work or exercise in the heat.
Stay hydrated – Drink cool non-alcoholic beverages (preferably water) irrespective of your activity intake, don't wait until you are thirsty – steer clear of sports drinks which are loaded with calories and sugar.
Keep pets and children cool – Never leave children or pets alone in a parked car.
For critical, life-threatening conditions, please call 9-1-1 or go to the nearest emergency department. This includes anyone experiencing difficulty breathing, shortness of breath, or chest pain.
Here at UFV, we are very fortunate to work in a place where we can stay cool, thanks to our amazing facilities team who ensures that our air systems are in tip-top shape. But many of us are working (at least some of the time) at  home, so I want to remind you to stay hydrated and cool, take adequate breaks and relocate to cool areas as needed during your work day.
Read the guidelines from the Government of BC for detailed information about protecting yourself and those around you during times of extreme heat.
Stay safe and cool this summer!