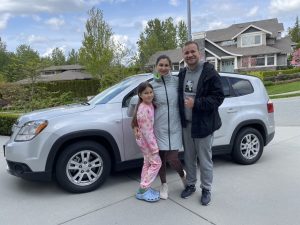 Submitted by Guest Blogger, Mark Pearson, Senior Advisor, HR
Since the war in Ukraine began, my family and I – like many others – have often felt helpless being so far away from the devastating effects on the people. Our most recent experience with devastation was watching our city, like others in the Province, be ravaged by flood waters, leaving people without homes, jobs, and livelihood.  Although certainly a terrible event, the Russian war is on another level, and we wanted to help those displaced and fleeing their homes, towns, and country…but what could we do?
Several weeks ago, while on Facebook, I came across a group – CANADA – Host Ukrainians.  I wasn't searching specifically, but there it was.  As I scrolled past story after story of people declaring their plans to immigrate to Canada, I saw a post from a woman who was planning to come to Vancouver with her family later that same week.  I thought to myself, "now is your chance to help" and I sent her a message to offer help. Although she did not reply, another man contacted me.  Like her, he was scheduled to arrive in Vancouver on Saturday with his wife and young daughter, aged 9.  This was Sunday night.  He asked for help and once again, I was faced with a decision.
I messaged him and the conversation began of their intended journey to Canada, with the clothes and two suitcases they carried.  My heart and head said that we needed to invite them to stay with us…but…we didn't know them. I hadn't talked about it with my wife, my children, or my inlaws who live with us. What would they say?  Was I crazy?
The next day, I spoke with my wife and asked her about having this family stay with us and she said "of course".  Then, I spoke with my inlaws and they too agreed.  That night, we did a video chat with the couple and let them know how we were prepared to help.  Although they were anxious (understandably), they agreed to be picked up at the airport and stay with us at least one night to get a good sleep and morning meal.  From there, they would make their decision about next steps.
Every night, we would chat online using Facebook and get to know each other and make plans to help them with work permits, health insurance, a home, jobs, school, a car, bank accounts, cell phones etc.  It was life on speed to arrange for these things so quickly.  Saturday arrived and I met them at the airport and did my best to welcome them to Canada.  They had fled to Germany soon after the war started and had a long journey from Frankfurt to Vancouver, and clearly needed some rest.
The next day, after some breakfast and visiting around the kitchen table, we began to make plans for what they needed and how we would accomplish this.  As I let friends and family know about the situation, the outpouring of help soon started with people offering food, household items, translation assistance, furniture, and company for this new family.  The husband is fluent in English but his wife and daughter only speak Ukrainian and Russian so it was important that we do our best to help them feel welcome, safe, and that they belonged here.  We also said that we would not talk about the war (so as not to re-traumatize them) unless they wanted to talk about it.
As my children (aged 10 and 7) played with their daughter, it was INCREDIBLE to see the joy on their faces and hear the giggles as they used Google Translate to communicate about cats, dogs, games, movies and other things that kids love!  After a week, the kids were "as thick as thieves".  We too, had grown to love this sweet family. They are kind, considerate, responsible, caring, funny…and so much more.  But, they also had deep needs and a desire for connection with their friends and family left behind in Ukraine.
It has now been just over a month since they have been with us and we feel like so much has happened.  We have connected them with so many wonderful people in our community and at organizations that have mobilized or can easily mobilize to help.  I have been so touched by the outpouring of support for this dear family.  But, there are so many others.  Thousands.  I'm thankful that our experience has been a good one, and that because of this experience, friends that we know have contacted other Ukrainians moving to Canada to offer their help – albeit a message of help, a ride from the airport, a meal, a bed or…a friend.
Soon, they will be moving out to their own apartment. They want to do this, as an important first step to getting established here in Canada. I can't help but feel like a father sending his children off to kindergarten or college – that "niggly" feeling one gets in his stomach when you say goodbye to those you care about.  This next step is certainly mixed with emotion for me, and my wife and kids too.  We have all formed a fast and furious bond with this family and want only the best for them.
The last month has been a whirlwind for our family, and I can't even imagine how the Ukrainian family feels!  They have expressed their deep gratitude for all the help that they have received…but they feel a deep sense of guilt, loss, and grief over what they have left behind.  Parents, siblings, friends, jobs, a family pet….their entire LIFE.
I am not really sure how to close out this post because it's not one that can be tied up in a nice bow. If you are interested to learn more about our experience, or perhaps how you can get connected with a family, or just have some questions, feel free to reach out. I'm still figuring this stuff out myself.