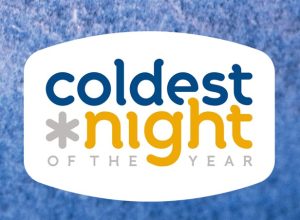 JOIN THE STRIVE TO THRIVE TEAM – The Coldest Night of the Year fundraiser is intended to support fellow community members who take shelter wherever they can find it. By walking in the cold and dark and leaving the comfort and warmth of your home, you will gain an understanding of the challenges faced by those experiencing homelessness. This year, UFV is a sponsor for the Coldest Night of the Year, raising funds to support the Ann Davis Transition Society in Chilliwack. For more information about the services and ways to support the Ann Davis Transition Society, click here: https://www.anndavis.org/.
We walk for those whose days are a battle in the effort to house and feed their families and whose nights are filled with fear and frustration.
We walk for those driven from their homes by violence and abuse, overwhelmed by isolation, guilt, and despair.
We walk humbly, realizing that anyone can lose their footing and then lose everything else.
The Employee Fitness Challenge has registered a team to support this fundraiser walk in a virtual environment, meaning we'll all walk in our own neighourhoods with our friends and/or families while working collectively as a team towards a goal of raising $500.00 for those in need. After joining our team, participants can either self-organize groups in your local community to walk 2 km or 5 km on February 26, 2022, or if that day doesn't work for you, pick your own date and walking route any day in February.
To register, click the link here: https://cnoy.org/home
Click on "register to fundraise"
Create a new account
Select – Abbotsford – Cyrus Centre as the location (you aren't required to walk at this location, you can still complete the event and walk in your local area instead)
Complete the waiver
Click on "join a team"
Select "virtual" event and type in the search box our team name "UFV – Strive to Thrive"
Fill in the personal information along with your username (your first and last name with no spaces) and create a password.
You're all set.
Make sure to tell your friends, family, and colleagues about this cause to support those in need. If you can fundraise $150 or more, you will receive a CNOY toque as a thank-you.
I'm including the link to my page so you can see what it looks like once you've registered. You will receive your own unique link that you can personalize with a photo and your comments which you can email to your friends and family for donations. You don't have to collect them, as they will be given instructions on how to make their donation.
https://secure.e2rm.com/registrant/FundraisingPage.aspx?registrationID=5056722&langPref=en-CA
Thanks everyone and I hope you enjoy this walk for an incredible cause!