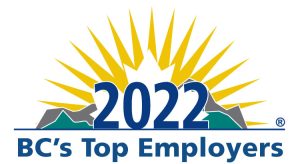 The University of the Fraser Valley has once again been named one of BC's Top Employers.  This marks the eighth straight year that UFV has been selected.
BC's Top Employers is a competition that recognizes employers in British Columbia that lead their industries in offering exceptional places to work.
Mark Pearson, UFV's Manager, Recruitment Services, says that throughout two years of the pandemic, UFV has continued to focus on creating a positive work environment that will attract and retain excellent faculty and staff members.
This includes helping employees transition back to working on campus after an extended period of home-based work; the launch of a hybrid remote work pilot program that lets participating staff members continue to work from home part time; launching Strive to Thrive, a revival of the employee fitness challenge retooled for a hybrid setting; and the creation of UFV at Work, a blog focused on human resources news and events.
"We also saw a lot of employees and departments really 'pull together' during the challenge of the pandemic to keep a sense of unity and community while we were physically apart," he noted.
Reasons cited by the judges why UFV was selected as one of BC's Top Employers (2022) include:
As part of the university's flexible benefits plan, UFV employees receive a $1,000 health spending account that can be used to cover additional medical or dental expenses or transferred to their personal registered savings accounts
UFV supports employees through various stages of life, from maternity and parental leave top-up payments for parents-to-be, to flexible work options to help balance personal and family commitments, to phased-in retirement work options for those in the later stages of their career
UFV recognizes exceptional performance and achievement through internal awards for a variety of categories, including community service, research and teaching excellence, employee excellence, and long-service.