Happy Friday everyone. I'm super excited about Halloween this weekend and especially because the weather is supposed to be nice for the little trick or treaters! I hope you try to abstain from too much candy though!
Tomorrow's (Saturday, October 30) weather promises to be nice too so that is great for the group bike ride along the Vedder with Ana Adamik. Many of you have signed up, but even if you haven't, feel free to join the group at 9:30. Details about where to meet are on our website. Why don't you wear costumes for the ride? That would be super fun.
https://www.ufv.ca/hr/health-well-being/fitness-challenge/
Thank you for continuing to submit your weekly progress reports and congratulations to this week's winner – David McGuire, who has won a $25.00 gift card to Sport Chek!
It's very important to submit your progress report this Monday especially if you've been working on the two challenges – Squatober and Walk to Harrison. They both end this Sunday, October 31 so you'll want to let me know if you participated, and if so, if you completed them. You can indicate that on the form. I can't wait to see how you all did and who is going to walk away with some AMAZING prizes!
And we aren't slowing down – Monday is the start of a new two-week challenge. Back by popular demand is BINGO! Try to complete as many squares as possible over the next two weeks. Once the card is complete, print, scan and send back to me! Bingo Card
The Meditation/Mindfulness series is going great and I hope all participants are enjoying it and are starting to put what they are learning into practice. Thank you again to Christine Slavik for all she's done for us.
DanceFit was super fun yesterday! And I'm definitely feeling a bit sore today – which is good! We are going to run some more classes soon so stay tuned for dates, times and registration details. Thank you Susan Francis.
Our walking groups are doing great! Join us  on Mondays (12:00) and Wednesdays  (1:00) in Abbotsford and at 12:00 in Chilliwack.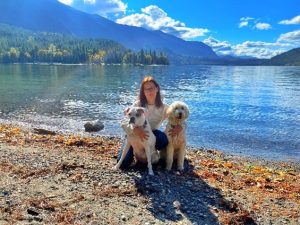 Zoe Strazza has offered to lead a group hike in the Chilliwack Community Forest on Saturday, November 6 at 12:00 p.m.  Dogs are allowed on the trail. Zoe loves taking her fur babies, Lexie and Callie there whenever she gets the chance. Bring your family out for a wonderful afternoon.
Maps:
https://www.chilliwack.com/main/parks/documents/maptopark.pdf
https://www.chilliwack.com/main/parks/documents/CommunityForestKioskMapFront_32x48_20200604.pdf
Information on all of our events and activities can be found on the Fitness Challenge webpage so check it out regularly so you don't miss anything!
Thanks again everyone for another great week. I've been getting so many positive emails and messages from you so I'm so glad you are appreciating this program. It really motivates me to do better all the time when I hear your stories and see your pictures – keep them coming.
Have a wonderful weekend!