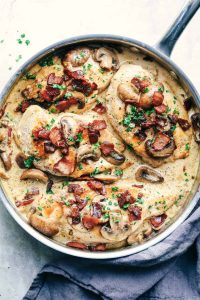 Submitted by Treena Peters
This recipe will have your friends and family feeling like they are eating at a fine-dining restaurant. The acidity of the balsamic vinegar and the richness of the heavy cream come together to create an amazing flavorful sauce.
Pan-Seared Chicken with Balsamic Cream Sauce, Mushrooms, and Onions
Ingredients
1.5 lbs. boneless chicken breasts
sea salt and ground black pepper
5 tablespoons butter or ghee, divided
1 medium onion, thinly sliced
1/2 cup chicken stock
1 cup heavy cream
2 tablespoons balsamic vinegar
8 ounces cremini mushrooms, halved or quartered
1/2 cup grated Parmesan cheese
2 tablespoons chopped fresh flat-leaf parsley, for garnish (optional)
Directions
Lightly season the chicken on both sides with salt and pepper and set aside.
Melt 2 tablespoons of the butter in a large skillet over medium-low heat. Add the onion and cook until it is nice and caramelized, about 20 minutes. Remove the pan from the heat and set aside.
Preheat another large skillet over medium-high heat. Melt the remaining 3 tablespoons of butter in the pan, then add the chicken. Pan-sear until browned on both sides, then remove from the pan and set aside. (The chicken will not be fully cooked at this time).
Deglaze the pan with the stock; use a rubber spatula to scrape the bottom and mix in any remaining bits of chicken. Simmer for 5 minutes.
Reduce the heat to low, then add the cream, vinegar, mushrooms, and a little salt and pepper. Simmer for 10 minutes, until the mushrooms are tender and the sauce has reduced by a third.
Add the chicken back to the pan and simmer until it is cooked all the way through, 10 to 15 minutes. (When done, the chicken will no longer be pink in the center).
Remove the chicken from the pan and plate. Add the Parmesan cheese and caramelized onions t the sauce and stir until the cheese is melted into the sauce. Pour the sauce over the top of the chicken. Garnish with fresh parsley, if desired, before serving.