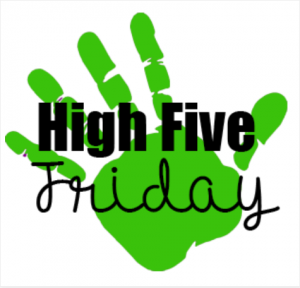 It's crazy how fast time flies – here we are at another Friday already. I hope everyone had a great week and had a chance to do some self-soothing/self-care. I went for quite a few walks, did some squats everyday, attended the BioDiet and Meditation sessions and did a lot of reading. All in all, a pretty solid week. Looking forward to spending some time with some girlfriends this weekend.
This week we continued on with a couple of challenges – Squatober and Walk to Whistler. If you are participating in these, I hope you are enjoying them and that the challenge is motivating you to do just a little extra! Both of these challenges end on Sunday, October 31 so keep going and do your best for a chance to win great prizes!
Thank you for continuing to submit your weekly progress reports and congratulations to this week's winner – Tsitsi Chizengeni, Sr. HR Advisor who will enjoy her $25.00 Starbucks gift card, I'm sure.
I'd love to get more participation in our Meditation/Mindfulness lunch & learn Zoom series running on Tuesdays until November 16 (see attachment). You don't need to commit to every one, so if you'd like to join just one or two, that's great. I attended this week and I thoroughly enjoyed it. It definitely made me realize that I need to incorporate this into my life IMMEDIATELY! I've even dedicated a small corner in my home for meditation/yoga and am excited to get it all set up. Please email me if you'd like your name added to the meeting calendar invitations. Christine Slavik has put a lot of time and effort into her craft and it totally shows – she's amazing!
Thank you to those of you that have registered for the next DanceFit class with Susan Francis. Let me know if you'd like to join the in-person class next Thursday, October 28 at 12:15 pm and I'll add you to the list. Participation is key for us to continue to offer you these types of great activities!
Our walking groups are doing great! All those that came out to this weeks' walk were given an awesome Strive to Thrive baseball hat – I give random, secret prizes away all the time to those that show up! Come on out on Mondays (12:00) and Wednesdays  (1:00) in Abbotsford with me and Katie, and at 12:00 in Chilliwack with Zoe.
We have another bike group heading out on the Vedder trail with Ana Adamik on Saturday, October 30. Please let me know if you'd like your name added to the list.
And a little birdie told me that they would like to lead another group hike – this time in Chilliwack, sometime soon, so more information on that will follow.
November is almost here and with it a new challenge – BINGO! Watch for more information on that in next week's edition of High Five Friday!
Information on all of our events and activities can be found on the Fitness Challenge webpage https://www.ufv.ca/hr/health-well-being/fitness-challenge/ so check it our regularly so you don't miss anything!
I really appreciate you all and I really do care about your heath and wellness. Take time out for yourself, get lots of sleep, eat well, get some exercise and enjoy time well spent with your friends and family. Have a wonderful weekend everyone!