In case any of you miss the email I send out every Friday, I thought I'd start posting them here too! Here is the one I sent out last Friday!
Friday High Five- September 17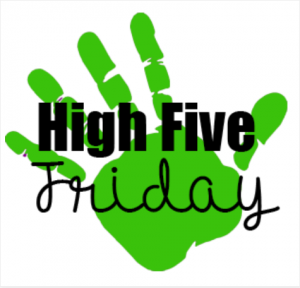 Well, week two down! I hope you are all enjoying your water bottles and staying hydrated! I've given you two weeks to warm up to the idea and to ease into your journey of better health and wellness but now it's time to get to work!
Our two-tiered walking challenge kicks off on Monday, September 20 (poster attached). This is a great opportunity for you to increase your activity level  (which almost all of you listed on your registration form as one of your goals of the program) with a chance of winning amazing prizes! And everyone that gives it a good try will have a chance to win prizes – not only those that complete it. So just do your best! Use the buddy system – it's a great way to motivate and encourage each other. Maybe have your own mini challenge among your department members – I'm sure your boss would donate a prize! And don't forget about our walking club that meets every Monday (12:00) and Wednesday (1:00) on the Abbotsford Campus and at 12:00 on Tuesdays on the Chilliwack campus. This is a great way to get in some extra kilometres towards the challenge. Let me know if you have any questions.
We have 35 of you registered for the 12-week BioDiet program which starts on Wednesday, September 22 and will run every Wednesday from 5:00 pm – 6:00 pm. This program is geared towards those employees that are committed to fulfilling the 12 weeks and fully participating. I have purchased all registrants a copy of Dr. David Harper's book so stop in to HR before Wednesday to pick it up as we will be using it together as our reference source. ONLY 4 SPOTS LEFT! I'm super excited to see how everyone does!Don't forget to submit your weekly progress report by 4:30 on Monday for your chance to win great prizes https://www.ufv.ca/hr/health-well-being/fitness-challenge/.
Don't let the rain discourage you from activity over the next few days – you won't melt! Or if you prefer, take care of yourself indoors with some meditation, yoga, reading, or just relaxing – those things are just as important to your overall wellness. Have a great weekend and hopefully I'll see many of you on Monday at walking club as you track your first day of the walking challenge. Take care everyone!